Documents reveal what oil could have meant to an independent Scotland
Government records from the 1970s demonstrated Scotland's economy would have benefited from oil income.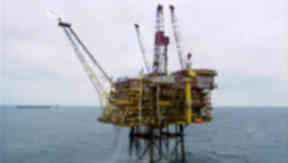 North Sea oil could boost incomes in an independent Scotland by up to 30%, civil servants calculated in the 1970s.
But this increase would come at a cost of continuing industrial decline - and the risk of "disaster" if the oil price collapsed. The assessment was made in 1975 by officials who concluded a good case could be made by arguing for Scotland to stay part of the UK, even without having a big share of the oil revenues.
The official thinking was disclosed in government records from 1979 to 1983 made public on Monday at the National Archives of Scotland in Edinburgh.
The assessment began with a meeting of 11 civil servants on April 17, 1975, which discussed a possible paper for ministers on the relationship between devolution and North Sea oil policies.
The assembled civil servants included Dr Gavin McCrone who in 1974 had written a paper concluding that North Sea oil had "completely overturned" traditional economic arguments used against Scottish nationalism.
Dr McCrone's paper said: "An independent Scotland could now expect to have massive surpluses both on its budget and on its balance of payment, and with the proper husbanding of resources this situation could last for a very long time into the future."
He said wealth did not automatically mean full employment and an end to emigration but it could be used productively.
For England, loss of most of the UK's oil revenues would mean several "difficult" years of adjustment - low growth, high unemployment and higher taxes.
Evidence from the Department of Energy indicated that 99% of the oil would belong to Scotland if a division was made according to existing international conventions.
But much of this oil was in waters east of Shetland, whose constitutional position as part of Scotland "can by no means be taken for granted" if Scotland were to become independent.
The popular view was that if Scotland could achieve independence and retain North Sea oil, it would be "unequivocally" in Scotland's interests to do so.