Payout to prisoners over segregation
Taxpayers cash awarded to murderers and robber who raised human rights case.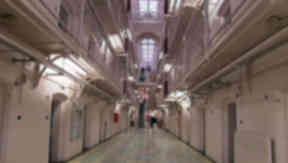 Three of Scotland's most notorious criminals are to be handed thousands of pounds of Government cash.
The Scottish Government is to give payouts following a human rights case over prison segregation. Murderers Andrew Somerville and Ricardo Blanco and robber Sammy "The Bear" Ralston are among convicts who will each receive payouts of £2,100.
The trio claimed their treatment and conditions of imprisonment were incompatible with their rights under the European Convention of Human Rights.
They raised an action for judicial review in 2002, saying they were "disgusted" with the conditions they lived under while in solitary confinement. They also attacked what they described as "arbitrary" segregation procedures in Scottish jails.
The case was fought all the way to the Court of Lords and then called again at the Court of Session in Edinburgh on Thursday. The Scottish Government had previously defended test cases, but the action was settled instead.
Somerville, 44, from Lanarkshire was jailed for life in 1993 for the cold blooded shooting of a man he had abducted while on the run from police. He shot victim Craig Anderson in the head, claiming "he got lippy".
Mr Anderson's fiancée managed to escape by throwing herself from Somerville's car. He was later captured following an armed confrontation in which he and three police officers were wounded.
In his human rights action, he said he had been placed in segregation during an incident in Shotts Prison. He believed this action was illegal as he had not been directly involved in the riot and had not been given adequate explanation by prison guards.
Former French Foreign legionnaire Blanco was jailed for life in 1989 for shooting 28-year-old Paul Thorne in the back of the head and stealing a £30,000 consignment of drugs. He has since been released from prison and has returned to Spain.
However, he claimed he had suffered low moods as a result of being held in segregation for five months. He was placed there after being charged with absconding during an escorted home leave, but was later cleared.
Ralston, from Cranhill in Glasgow, was jailed for 12 years in 1997 for carrying out an armed raid at a shop in the city's Carntyne area.  Ralston, who previously took part in jail riots at Peterhead and Barlinnie prisons, had denied the offence. 
During his last sentence he was held in segregation after his behaviour was deemed to be confrontational and threatening to staff.
A solicitor representing all three men said: "When these court actions commenced back in 2002 the purpose was to improve the way that they, the individual petitioners, were treated and to improve the situation for all prisoners who may be subjected to the practices which were challenged. 
"The Scottish Prison Service, shortly after the commencement of these actions, altered considerably their practices, procedures and process for the use of segregation." 
He added: "That improvement represented a vindication of the position adopted before the court by the petitioners which was initially poorly received and even derided."
However, Tory Justice Spokesman Bill Aitken said: "This is ludicrous. If these prisoners were in solitary confinement then they were there for a reason.  It is outrageous they are now getting money out of the taxpayer.
"People will be appalled at a soft touch justice system which can let this happen. It is beyond a joke. In the SNP's soft touch Scotland it is criminal that crime pays."