Government unveils scheme to help homeowners go green
Interest free loans on offer for improving energy efficiency and reducing fuel consumption.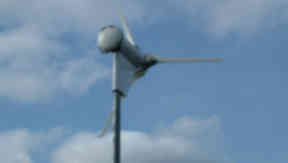 Homeowners are to be given interest free loans to help cut their fuel bills and make their homes more environmentally friendly.
Finance Secretary John Swinney has unveiled a £2 million pilot loans scheme which will assist people in paying for insulation, boiler replacement and installation of solar panels.
The news came as the Scottish Government published 'A Consultation on the Energy Efficiency Action Plan for Scotland'.
It sets out a number of ideas which could help cut emissions and boost the economy.
Cabinet Secretary for Finance and Sustainable Growth John Swinney said: "Energy efficiency is a key part of our economic recovery programme and our climate change ambitions.
"A waste of energy is a waste of money and with high fuel prices and the need to cut emissions, we must all take steps to cut energy use - in our homes, in the transport we use, in businesses and across the public sector.
"Improving household energy efficiency to meet our 2020 Climate Change Act targets could cost an average of £7,000 per home over that period."
He added: "This comes on top of a range of existing Government schemes that are helping thousands of people cut their bills and transform the way they use energy."
Experts say meeting environmental targets could leave many homeowners out of pocket. It is estimated that as almost 2.2 million homes will require loft or wall insulation.
The Government hopes that providing interest free loans of up to £1,000 will help ease the burden on those who want to reduce their property's energy usage.