Judges reject human rights challenge
Appeal court says questioning of suspects without a lawyer present does not breach human rights.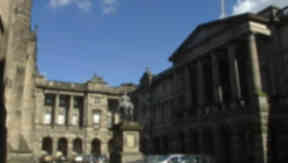 Appeal judges have rejected a human rights challenge against police questioning of suspects without a lawyer's presence which could have affected thousands of prosecutions in Scotland.
However, lawyers acting for the accused man in the test case have said they will now seek to take the legal fight to Britain's new Supreme Court.
Had the legal challenge been accepted by judges, hundreds of criminal cases in courts up and down Scotland could have been affected, with many even being thrown out.
A specially convened bench of seven judges at the Court of Criminal Appeal in Edinburgh ruled that it was not a violation of human rights to allow police to question suspects without a solicitor sitting in, because legal representation was not available from the moment of entry into police custody.
They also held that the Lord Advocate, Elish Angiolini QC, Scotland's senior law officer, would not be acting outside of her powers to rely on evidence, obtained at an interview conducted in the absence of a lawyer, to seek a conviction.
Following a two-day debate Scotland's senior judge, the Lord Justice General, Lord Hamilton, said they would return to give a decision in the case because of the importance of the issue to the justice system and its potential urgency.
Duncan McLean, of Nebigging Cottages, Lethnot, Brechin, in Angus, will face trial at Forfar Sheriff Court accused of stealing a car and wilful fire-raising.
But lawyers acting for the 20-year-old argued that to proceed with the prosecution would be incompatible with his right to a fair trial under the European Convention on Human Rights, because the prosecution intend to rely on statements he made to police in Arbroath with no solicitor present.
The challenge comes on the back of a Turkish case against a teenager, Yusuf Salduz, who was jailed for two-and-a-half years for taking part in an illegal demonstration.  He was held in custody and questioned, making statements he later claimed were extracted under duress. The case was later successfully taken to Europe.
Last year the Grand Chamber of the European Court of Human Rights ruled that Article 6 of the ECHR, which guarantees the right to a fair trial, required  that access to a lawyer should be provided "from the first interrogation of a suspect by the police" unless compelling reasons could be shown for  restricting it.
At present in Scotland the law does not compel police to allow a solicitor to be present during interview of a suspect, although he has the right to have a lawyer informed of his detention. Police must inform the person that there is no obligation to answer questions and the detention can last up to six hours, before release or charge.
Lawyers acting for McLean argued that due to legal representation not being available from the moment he was taken into police custody his human rights have been violated.
But the Crown contended that there were adequate safeguards provided for an accused in the Scottish legal system.
Lord Hamilton - sitting with the Lord Justice Clerk, Lord Gill, Lord Osborne, Lord Kingarth, Lord Eassie, Lord Wheatley and Lady Paton - will give full reasons for their ruling at a later date.