Scottish charity Mary's Meals working hard to feed schoolchildren
STV News reporter Peter Smith went to Chirimba to visit one of the charity's newest projects.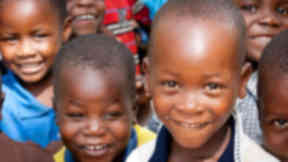 Hunger and poverty prevent 57m children around the world from getting an education but Scottish charity Mary's Meals is working hard to give every schoolchild one meal a day.
The initiative has grown massively since it began 13 years ago in Malawi.
STV News reporter Peter Smith went to Chirimba in the southeast African nation to visit one of the charity's newest projects.
One pupil, Pachalo, told him how the charity has changed her life.
"My father died and then his parents came to our house where we were staying," she said. "They took everything and they turned us out.
"I want to study law because I want to defend the women and children of Malawi.
"The first day I ate porridge, well, I was so, so happy."
Pachalo was just six years old when Scotland hosted the G8 summit focusing on ending Africa's dependence on aid.
While the world's most powerful leaders gathered in Gleneagles, the biggest stars of music played LiveAid concerts and a campaign gathered momentum with one aim — to Make Poverty History.
A decade later, scenes of hungry children in Malawi suggest that aim remains a long way from being accomplished.
Aid has been sent but too much of the money has failed to reach its intended destinations.
The current government is attempting to eradicate corruption but the deputy minister of education in Malawi says it is "an issue which is everywhere in Malawi".
One Scottish charity has been trying a different approach to try to circumvent corruption. Mary's Meals provides food for hungry children through their school, encouraging them to get nourishment and an education.
Mary's Meals relies on local volunteers to help deliver the aid.
In Malawi alone there are 65,000 of them and behind me you can see some of the local women here in this village just outside Blantyre.
The charity is now hoping millions more poor children around the world can follow in her footsteps.