Foreign aid helps Malawi improve conditions on maternity wards
STV News revisits Malawi to see how aid promises have helped make giving birth far less dangerous than it was a decade ago.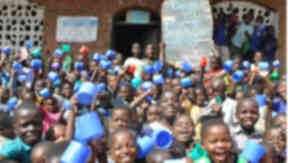 Ten years ago giving birth in Malawi was described by doctors as one of the most dangerous things a woman could do.
While filming with then first minister Jack McConnell on his tour of the African nation, STV news witnessed a maternity hospital functioning in some of the worst conditions imaginable.
Since then, the G8 Summit made and the Make Poverty History campaign have furthered alleviated suffering in Malawi.
But delivering aid to certain parts of Africa is still blighted with controversy because of the corruption in many parts.
The UK government has stopped delivering aid money directly through the Malawi government because of corruption scandals.
Against the odds, Scottish charity Mary's Meals have found a way of getting aid and food directly to children who are most in need — and combined it with an incentive for those children to go to school.
STV News examined how your aid has changed the lives of thousands of Malawian mothers-to-be.