New welfare powers 'should be used to redress benefit sanctions'
One mother in Fife had to go four weeks without money after being late for an appointment because her child needed the toilet, according to a charity.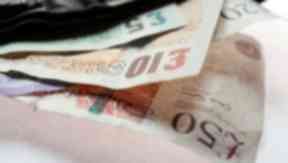 New welfare powers coming to Holyrood should be used to help redress some of the worst impacts of benefit sanctions, campaigners have said.
Barnardo's Scotland made the plea as it claimed a mother had been left without any cash for four weeks after being sanctioned because she was ten minutes late for an appointment.
The woman, from Fife, was held up because she had to take her four-year-old to the toilet, the children's charity said.
It revealed details of the case, which it said was "not an unusual example", in a submission to MSPs on Holyrood's Welfare Reform Committee, which is looking at how changes to the benefits system affect women.
With Holyrood due to get some responsibility over welfare as a result of the Smith Commission on further devolution, Mark Ballard, head of policy at Barnardo's Scotland, said: "New powers over employment support should be used to mitigate some of the worst impacts of conditionality and sanctions."
"Sanctions should only be used as a tool of last resort, be subjected to a test of reasonableness and have safeguards built in that ensure that no-one who is the subject of a sanction is left with no money.
"In addition, where sanctions are applied to a claimant with children, provision needs to be made for those children.
"It is not enough to say that benefit sanctions do not impact on children because child benefit is not withheld as part of the sanction. The experience of our services is that this is not the case."
Mr Ballard said the current "damaging" sanctions regime "penalises the poorest and most vulnerable, and pushes more people into poverty".
His submission stated: "One woman recently supported by our Fife service was ten minutes late for an appointment due to an unforeseen event with one of her children (a four-year-old needing the toilet on the way to an appointment), she was sanctioned. The impact of this sanctioning for her well-being and the well-being of her family was devastating.
"She was without money for four weeks and, as a result, she was unable to purchase fuel cards for her gas and electricity meters or feed her children.
"A number of other household bills went unpaid and she had to borrow money from friends and relatives in order to survive.
"This had a long-term effect of putting this woman further into debt and damaging her relationships with people who were previously supportive.
"The woman relied for four weeks on food parcels from food banks in order to feed her children, resulting in them having no fresh food, fruit or vegetables in that time."
Mr Ballard continued: "This is not an unusual example from our service's perspective. Women are usually the main carer for children and as such are hit the hardest by these sanctions.
"It is important to recognise that the effects of benefit sanctions go well beyond the period of the sanctions and significantly impact on everyone who lives within the household.
"Children are particularly negatively affected as it can result in an increase in the pressure on parents which impacts on their ability to meet their children's social, emotional, physical and educational needs."
Mr Ballard is due to give evidence to the committee on Tuesday, along with representatives from a range of charities and campaigning organisations.
In its submission to MSPs, One Parent Families Scotland argued the severity of sanctions, in terms of the number of women affected, the amount of benefits lost and the length of time for which they are imposed, had "dramatically increased".
It stated: "For those claiming JSA (jobseeker's allowance) the minimum period for which benefits can be suspended is now four weeks and the maximum three years.
"Single mothers can lose all of their individual benefit allowance, having a knock-on effect on their children - punishing mothers and children alike."
The submission continued: "There is now a large amount of evidence which shows that sanctions are often applied in an arbitrary and unfair way, plunging families into severe poverty, with devastating effects on people's health and well-being.
"These findings chime with our own experience; working with single mothers who are sanctioned or threatened with sanctions through no fault of their own."
One Parent Families Scotland also said the threat of sanctions "is sometimes forcing mothers into making decisions they would not choose to make as parents, in the best interests of their children".
A Department for Work and Pensions (DWP) spokesman said: "The number of sanctions in Scotland is falling as more claimants fulfil their commitments to look for work.
"The truth is that every day Jobcentre Plus advisers are helping people into work and we have a near record number of people in jobs.
"Sanctions are only used as a last resort for the tiny minority who refuse to take up the support which is on offer."
The number of sanctions on those claiming jobseeker's allowance has fallen from 84,200 in 2013 to 55,864 in 2014, according to the DWP.
Benefit claimants with children who are sanctioned can receive hardship payments straight away, the UK Government department added.
Download: The STV News app is Scotland's favourite and is available for iPhone from the App store and for Android from Google Play. Download it today and continue to enjoy STV News wherever you are.
Join in: For debate, chat, comment and more, join our communities on the STV News Facebook page or follow @STVNews on Twitter.
Updates: Would you like STV's latest news update in your inbox every morning? Choose from our range of regular e-newsletters here