Scottish food and drink exports to China boosted by £3m whisky fund
Nicola Sturgeon announced the initiative as she arrived in China for her trade-focused visit.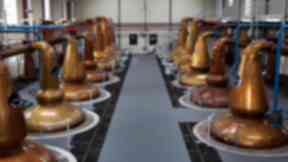 A £3m fund has been created to allow Chinese whisky connoisseurs to invest in some of Scotland's rarest malts.
The fund, generated by members of the Single Malt Club China (SMCC), will be used to buy rare and valuable malts, such as limited editions from distilleries or bottles from single caskets.
First Minister Nicola Sturgeon announced the initiative as she arrived in China for her trade-focused visit.
On Sunday she is opening the SMCC's new Whisky Experience Centre in Beijing which is open to anyone interested in single malt whisky and showcases the malt whisky making process with photos and items from distilleries. It also displays single malts available in China.
Ms Sturgeon said: "Scotch whisky is world famous and is one of our most iconic products. Scotland is the home of whisky and there is a clear global demand for our national drink.
"The Single Malt Club China has worked hard to promote Scotch whisky for a decade and now has nearly 5000 members throughout China. It also works with 31 of our distilleries so the support for our industry is clear, and this fund will allow Chinese whisky connoisseurs to invest in some of Scotland's finest and rarest drams.
"I'd like to thank them for their commitment to increasing the awareness of our national drink and I hope this new Whisky Experience Centre will continue that trend. We value their efforts in promoting Scotland, our iconic products and our culture and look forward to working with them to continue this relationship."
The SMCC was set up in 2005 and the value of the club's imports of Scotch Whisky have grown at a double digit rate every year since.
Last year the club imported 60,000 bottles and the £3m Whisky Investment Fund will contribute to growing those imports by another 20% next year.
Raymond Lee, founder and chairman of the Single Malt Club China, said: "Single Malt Club China constantly strives to promote the love of single malts, which is the pinnacle of enjoyment in spirits.
"Understanding Scottish culture is an integral part of enjoying whisky, which makes single malt Scotch even more enjoyable."
The First Minister is in China and Hong Kong this week to promote Scottish innovation with one of the world's largest economies as part of a trade visit.
During the visit she will undertake a series of business engagements to promote Scottish business in Beijing, Shanghai and Hong Kong, including hosting an "innovation showcase" for Scottish companies to meet with Chinese investors, as well as undertaking a series of cultural and educational engagements.
She will also address the issue of women's rights in the heart of the Chinese Government in a key note address to 100 senior women in government, academia and business.
The First Minister also revealed figures showing that food and drink exports from Scotland to China have risen by 12% in a year and are now worth £85m to the Scottish economy.
The bulk of exports (£43m) are made up of fish and seafood, followed by whisky £39m), meat (£1.4m) and cereals (£1.1m).
Ms Sturgeon said: "Scotland serves up first class food and drink to countries across the world, with global exports worth a staggering £5.1bn in 2014.
"Emerging markets like China are actively looking at Scottish produce and these figures show a clear recognition that our produce is highly regarded and sought after."