Lockerbie bombing under police review
Evidence to be re-examined as prosecutors insist Megrahi did not work alone.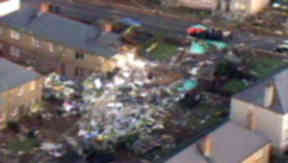 Police say they are following several new lines of inquiry as they review their investigation into the Lockerbie bombing.
Relatives of those killed in the atrocity say they have been told that officers will conduct a review of forensic evidence as well as examining new leads.
Abdelbaset al-Megrahi remains the only person ever convicted of carrying out the bombing of Pan Am flight 103 in 1988, however, prosecutors have always maintained that he was unlikely to have worked alone.
He was convicted of the murder of 270 people in 2001, but was released in August on compassionate grounds because he is suffering from terminal cancer.
It is understood that his decision to drop his appeal against his conviction means the investigation can be reopened.
However, prosecutors say the probe will not re-examine Megrahi's conviction but will instead aim to identify others who may have worked with him.
Victims' relatives have welcomed the move, but say they still want a public inquiry to be held into the case.
Pamela Dix, who lost her brother Peter in the bombing, said: "As far as we understand it there are avenues which are being pursued, and I think that should be interpreted as a good thing.
"Expectations around Megrahi's appeal were really quite high but hopes were profoundly dashed when the appeal was abandoned.
"The situation is unresolved and it is unfinished business."
Dr Jim Swire, who has long been a campaigner for a full inquiry into the bombing, said: "I think that if they are really going to a meaningful investigation then that is all well and good and long overdue. I would be all for it.
"But if it is just a dodge to prevent an investigation into why the lives of those killed were not protected then I would be livid."
Megrahi returned to Libya after being released from Greenock Prison in August.
The former Libyan intelligence officer has always maintained that he had nothing to do with the bombing of Flight 103 from Heathrow to New York.
After being declared a chief suspect in 1991, he spent nearly 10 years on the FBI's Most Wanted list before handing himself in in 1999.
He was convicted of the mass murder in 2001 before a panel of Scottish judges at Camp Zeist in the Netherlands and told he would spend a minimum of 27 years in prison before being considered for parole.
He twice appealed against his conviction, arguing the guilty verdict had been a miscarriage of justice. However, he finally dropped his second appeal and Justice Secretary Kenny MacAskill took the decision to free him and allow him to return home.
On Sunday, it was revealed that four police officers were now working full time on the case to examine new leads.
Dumfries and Galloway Police Chief Constable Patrick Shearer later released a statement insisting the development is part of a review, not a "re-launch".
He said: "The case remains open and Dumfries and Galloway Constabulary continue to work closely with the Crown Office.
"Throughout the investigation we have, at various times, conducted reviews of the evidence as a whole in an attempt to identify further lines of inquiry that may be explored.
"Now that Mr Megrahi has decided to abandon his appeal against conviction a further review of the case is under way in respect of others who acted with him in the murder of 270 people.
He added: "The work that is being undertaken is the latest in a series of reviews which have formed part of an investigative strategy in keeping with our determination to pursue every possible lead.
"We also take cognisance of the trial Court's acceptance of Crown's position that Mr Megrahi acted in furtherance of the Libyan Intelligence Service and did not act alone."