Sturgeon: Scotland will do 'everything possible' to help refugees
Her comments come as Scots across the country prepare to donate to refugees stranded across Europe.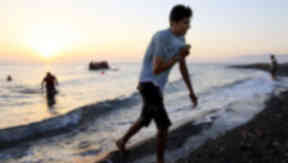 Nicola Sturgeon has pledged Scotland will do "everything possible" to help tackle the migrant crisis, saying she had cried at the image of a young child washed up dead on a beach.
The First Minister said in Scotland "we stand ready to help offer sanctuary to refugees who need our help".
She criticised David Cameron, accusing the Prime Minister of taking a "walk on by on the other side approach" to the growing international situation.
Her comments come as the crisis deepens across Europe and Mr Cameron faces increasing demands to allow more refugees into Britain.
In Hungary, hundreds of refugees who were been banned from the Budapest train station were allowed on trains on Thursday.
When the train then stopped 30 miles outside the capital and riot police tried to force everyone off and into a refugee camp, protest broke out.
News also came that four people in Turkey have been detained in connection with the death of 12 Syrian refugees who drowned off the coast.
They included Aylan Kurdi, the little boy whose picture sparked an emotional response from the First Minister.
Ms Sturgeon told MSPs she had wept at the sight of news pictures from a Turkish beach showing the three-year-old child.
Speaking at First Minister's Questions, Ms Sturgeon said: "As First Minister of Scotland, I pledge that I will ensure that Scotland does everything possible to help this refugee crisis.
"I will be far from the only person reduced to tears last night at the picture of a little boy washed up on the beach. That wee boy has touched our hearts, but his is not an isolated tragedy.
"He and thousands like him whose lives are at risk is not somebody else's responsibility, they are the responsibility of us all.
"So, I am angry, very angry, at the walk on by on the other side approach of the UK Government.
"I implore David Cameron to change his position and change it today, and I pledge as First Minister of this country that we stand ready to help offer sanctuary to refugees who need our help."
Ms Sturgeon was not the only one to speak out, with the leader of the Scottish Conservatives breaking ranks.
Ruth Davidson took to Twitter to say more must be done.
She said: "The UK I know has always shouldered its burden in the world. Department for International Development is doing life-saving work abroad but we can - & must - do more at home. This is not an immigration issue, it's a humanitarian one, and the human response must be to help. If we don't, what does that make us?"
Meanwhile Scots across the country are doing their bit to help refugees in other parts of Europe.
Many are collecting items to be donated to the refugee camp in Calais.
Candle-lit vigils will be taking place across Scotland on Saturday with participants wanting to show solidarity with the refugees.
Celtic FC has announced it will donate a share of the proceeds from a charity match to help those affected by the crisis.
Chief Executive Peter Lawwell said: "Having seen the effects of this humanitarian crisis unfold in recent days, we felt as a club we should help in any way we can.
"Celtic was established as a football club to help people in need and this ethos remains a fundamental part of our club almost 130 years after our formation. None of us can understand the true horrors of this situation but as a club we wanted to show our support for those affected."