Library staff 'increasingly forced to deal with antisocial behaviour'
Survey finds almost half of all public librarians in Scotland are concerned about violence at work.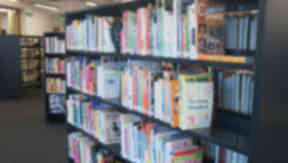 Public library staff are increasingly being forced to deal with antisocial behaviour as the service they provide changes, according to a new report.
Research by public services trade union Unison Scotland found almost half (49%) of workers surveyed said they were worried about antisocial behaviour or violence at work.
The union linked the problem with the expansion of libraries into digital services and the changing nature of the service expected by users.
Its report, entitled Read It and Weep, said: "The issue of having to deal with anti-social behaviour is clearly both serious and growing for staff in public libraries.
"Expansion into provision of digital services means staff are expected to be able to solve problems for users which in some cases they are poorly equipped to do. They are also having to deal with a changing customer base.
"In our surveys, staff frequently point out that libraries are where people deal online with a variety of public agencies over issues such as benefits.
"There are many accounts of customers taking out their frustrations on library staff when interactions with the DWP (Department for Work and Pensions) or similar haven't gone the way they would like.
"Allied to this is a big increase in lone working due to staff cuts. Many staff report being uneasy at the single manning of libraries, particularly at night."
The union has called for more investment after the survey of 272 staff indicated that many feel under pressure to deliver a wider service with fewer resources.
Almost half of those questioned (45%) said they believed the service at their library had worsened, compared to 32% who thought it had improved.
More than three quarters (77%) said staffing levels had gone down in the last three to five years and 52% said they were not given adequate training.
The Scottish Government recently announced £80,000 for a scheme to give children automatic membership of their local library.
Librarian Gray Allan, Unison's Falkirk Council branch spokesman, said: "What our libraries need isn't just fine words and ideals but proper financing and investment.
"The Scottish Government have endorsed a national strategy for public libraries that talks of libraries being part of a shared civic ambition.
"There isn't much point in giving every child in Scotland a library card if their local library is being closed or its hours have reduced so much it isn't accessible.
"Staff are keen to see their service move forward but that isn't happening."
A Scottish Government spokeswoman said: "Libraries, and library staff, provide support to access reading material and play a crucial role in providing access to IT, improving attainment, supporting children in the early years and empowering communities.
"Local authorities have a statutory duty to provide library services and the Scottish Government has treated local government fairly despite the cuts to the Scottish Budget from the UK Government.
"The local government finance settlements have been maintained over the period 2012-16 with extra money for additional responsibilities and, as a result, the total settlement in 2015-16 now amounts to over £10.85bn. The vast majority of this funding, including funding for library services, is being provided by means of a block grant."