Survey reveals public demand for more investment in cycling
Three quarters of respondents agreed too little is spent on improving cycling infrastructure.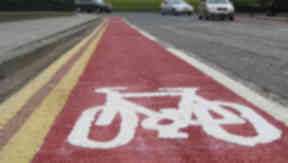 Three quarters of people think more money should be invested in cycling, according to researchers.
A survey of 11,000 people across seven UK cities found that on average people want £26 to be spent per person on cycling each year.
The current amount spent in Scotland is estimated to be around £9, while in England the figure is £4.
According to travel charity Sustrans - which commissioned the Bike Life Survey - even 71% of people who never ride a bike think funding should be increased, the study found. This rises to 87% among regular riders.
The report is based on the Copenhagen Bicycle Account, which began in 1996. This research, which includes surveys about the population's perception of cycling infrastructure, has persuaded Danish policy makers to turn the capital into one of the world's most bike-friendly cities.
Jason Torrance, Sustrans policy director, said: "The message from the public couldn't be clearer. There's a desire to cycle more, but that a lack of safe places to ride bikes is off-putting.
"People want governments to spend more, and say that they would cycle more if it were safer. Now governments must close this gap between current spending and public demand."
WWF Scotland director Lang Banks said: "It's good to know the vast majority of people support the idea of more investment in cycling. Given that carbon emissions from transport remain stuck at 1990 levels, there's a real need to encourage the public to cycle and walk more.
"As we approach the Holyrood elections, we're looking for all the political parties to commit to allocating a much greater proportion of capital spend to low carbon infrastructure, including projects that would help boost cycling and walking."
Alison Johnstone, Scottish Green MSP co-convener of Holyrood's cross-party group on cycling, called on the Scottish Government to give "meaningful support" to infrastructure improvements.
She said: "Public demand for investment in cycling and walking infrastructure in Scotland is clear, with massive events such as Pedal on Parliament.
"Actions speak louder than words and despite plentiful evidence of the huge benefits for our health, Scottish ministers still spend less than 2% of their £2bn transport budget on cycling and walking.
"The Scottish Government clearly doesn't see transport as a social justice issue and simply isn't investing meaningfully to support those who either can't afford to drive or prefer not to."
However, Transport Scotland said the report suggests that Scotland is investing double the amount in cycling per person than England does.
A spokesman said: "We recently announced an additional £3.3m for cycling and walking infrastructure, taking investment in active travel to over £39m for 2015/16, and matching last year's record investment.
"We are also investing over £1bn to encourage people out of their cars and onto more sustainable and active modes.
"However we recognise the importance of building on this momentum, which is what last week's first ever Active Travel Summit in Inverness was all about.
"Our Active Travel Vision also maps out how better integration, greater cultural and behaviour change, and community ownership and planning, can deliver even more progress."
The survey was published as a new £1.25m segregated cycling route was opened in Glasgow, a city often criticised for its poor cycling infrastructure.
The South-West City Way provides 2km of segregated cycle way for cyclists travelling between the southside and the city centre.
Linking with a network of streets in Pollokshields, the route starts at the junction of Shields Road and St Andrew's Drive, travels north on Shields Road, east along Scotland Street and north on West Street, arriving at the Tradeston footbridge.
From there it crosses the Clyde and joins with the National Cycle Route 75.
Councillor Alistair Watson said: "We want to make cycling in Glasgow as safe and enjoyable as possible. Using kerbing and islands to segregate cycle tracks from heavy traffic flows will help achieve this.
"We know cycling is increasing across the city and having high quality infrastructure such as this with attractions along the route like the Scotland Street School Museum and two local Subway stations, will hopefully encourage even more people to get on their bikes and pedal their way to a healthier, fitter lifestyle."
John Lauder, Sustrans Scotland national director, said: "We're delighted to have supported the South-West City Way and that it is now being launched. This route and others like it enable people to make every day journeys conveniently and safely."