Scottish Government: £330m schools and health investment to go ahead
Planned investment in new schools and health centres had been put on hold.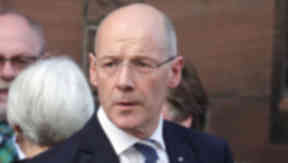 Planned investment of £330m in new schools and health centres can now go ahead after previously being put on hold, the Deputy First Minister announced.
Proposals for 10 schools and two health centres had been held up as the Scottish Government sought advice from the Office for National Statistics (ONS) over whether they would be classed as public or private sector initiatives.
Changes are being made to the Scottish Government's Hub model, and the ONS has now confirmed the Government's contribution can come from its long-term resource budget.

John Swinney told MSPs this "welcome decision" means the projects can now proceed to financial close "as soon as possible".
The Deputy First Minister said: "I am today able to advise Parliament that the ONS has offered the view that the proposed model would be classified to the private sector.
"This means I am able to advise the relevant local authorities and health boards that they can proceed to contract award with Hub projects under the revised model."
The Hub model delivers non-profit distribution (NPD) project which uses private finance to pay for the work, but caps the profit that firms can make.
However the ONS had earlier ruled that the £745m Aberdeen Western Peripheral Route (AWPR), which is also being funded by NPD, must be classed as a public sector project, putting it on to the Scottish Government's balance sheet.
Mr Swinney said the revised arrangements that are now being put in place would see the 12 projects taken forward by special purpose companies which would be 60% owned by the private sector partners.
He said: "The Scottish Government has always prioritised public infrastructure projects as a critical tool for growing our economic recovery.
"I am therefore delighted to be able to confirm that the 10 school and two health centre projects within the Hub programme will now proceed. That is around £330m of capital investment in our children's education, our NHS and Scotland's economy.
"These 12 projects will make an enormous difference in their communities, both in terms of the immediate boost provided by the jobs that their construction will bring, but also through the long term health and education benefits that these projects will provide to local communities and local people.
He told MSPs that a "rapid reversal" of the AWPR's classification as a public sector project would "not be possible".
But Mr Swinney said the new road would still be "on time and on budget".
The 12 projects that can now proceed are: The Lothian health centre bundle; Inverclyde Care Home; Kelso High School in the Borders; Newbattle High School in Midlothian Council; Baldragon Academy in Dundee; Elgin High School in Moray; Dalbeattie Learning Campus in Dumfries and Galloway; Barrhead High School in East Renfrewshire; Our Lady and St Patrick's High School in West Dunbartonshire; Ayr Academy in South Ayrshire; Campbeltown Grammar and Oban High School in the Argyll and Bute region; and the East Ayrshire Learning Campus in East Ayrshire Council.