Predicted Black Friday chaos fails to show as shoppers head online
Moderate crowds queued outside some Tesco Extra stores, opening at 5am, in a change from last year.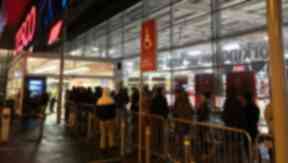 Police were on hand and security barriers had been erected but the predicted chaos of Black Friday failed to materialise as smaller crowds waited patiently to get a deal.
Moderate crowds queued outside some Tesco Extra stores, which opened at 5am, with some customers being offered mince pies as they waited in the rain and cold.
As the shutters were raised and doors unlocked shoppers were seen walking calmly into the stores, while others waited their turn as security staff limited the number heading in at any one time.
Last year's scenes of bargain hunters wrestling over cut-price televisions were not repeated in the early hours. However, the shoppers who did turn up were seen loading up their trolleys with high-value items including TVs, coffee machines and vacuum cleaners.
Stores had taken extra precautions this year, after warnings from police that firms needed to ensure they had enough security staff on in case of any trouble.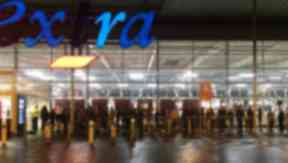 Many shoppers have taken to going online for their Black Friday deals with some retailers offering discounts across the whole weekend and onto "Cyber Monday".
The term is used in the USA for the Monday after Thanksgiving and is thought to be one of the biggest online shopping days of the year.
With crowds taking their custom elsewhere, a Facebook campaign urging people not to go out shopping on Black Friday gathered the attention of more than 37,000 people.
"Buy Nothing Friday" was set up by Sam Machin from Edinburgh a earlier in November with his Facebook page encouraging people to "hug your friend" or "ring your parents" instead of "getting in a tug of war with the granny down the road over that 10%-off TV".
Mr Machin told STV News: "I just started it with my friends two weeks ago, and they shared it with their friends and so on.
"Now thousands of people have decided they're going to take a break from Black Friday."
Hear more from Mr Machin in the interview in the video below.
Elsewhere Asda has cut the price of its petrol to below £1 per litre in a festive boost for motorists.
Customers getting for petrol from the supermarket giant will from Black Friday pay 99.7p for litre for unleaded and 103.7p for diesel at any of its 273 filling stations across the UK.