New chief constable of Police Scotland announced as Philip Gormley
Former Norfolk chief constable leaves National Crime Agency deputy role after less than three years.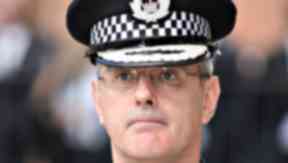 Philip Gormley has been named as the new chief constable of Police Scotland.
The 53-year-old was unveiled as the successor to Sir Stephen House as head of the single Scottish force.
The former chief constable for Norfolk comes to Scotland having spent just under three years as the director deputy general of the National Crime Agency.
Previously he was also the commander of specialist operations at the Metropolitan Police and the deputy chief constable of West Midlands Police.
Mr Gormley beat two of Police Scotland's deputy chief constables for the top job.
Deputy chief Constable Designate Neil Richardson has been standing in for Sir Stephen House who left the force on Monday and was in the final three interviews carried out last week, while deputy chief constable Iain Livingstone also made the final three and was the favourite among rank and file officers for the post.
At Norfolk he was the highest paid chief in England and Wales outside the Met with a reported salary of 260,000. He'll have to take a pay cut at Police Scotland on a fixed salary of 212,280.
Mr Gormley said: "I am delighted to have this opportunity to serve the many communities of Scotland as their chief constable. I believe I have the skills, the experience, and the insight required to lead the amazing workforce we have across Police Scotland.
"I have a 30-year career in policing and law enforcement, the last 13 years as a chief officer leading organisations delivering for the public in a period of profound transformation for policing.
"Police Scotland is on just such a journey and it will be my job to ensure our service strikes the right balance between local community approaches, and the many challenges we face from organised criminals, cybercrime and extremism.
"I am very excited and passionate about this unique professional and personal challenge, and I am looking forward to getting to work with my new team."
Announcing the appointment, SPA chair Andrew Flanagan said: "The SPA has appointed Phil Gormley as the next chief constable of Police Scotland, following a rigorous appointment process. From a strong field, I am confident we have found the best candidate to build on the progress that policing in Scotland has made, and to address the issues and challenges that the service faces.
"He has extensive experience in leading law enforcement organisations with diverse workforces, operating across both rural and urban environments, and with local, national and international reach. That mix fits well with the needs of a single service here in Scotland.
"The new chief constable has challenges he will want to quickly address: re-engaging our workforce, tackling budget challenges, and bringing stability to the planning and implementation of organisational change.
"That is however just the start. We set out to find a leader with the vision to energise officers and staff towards innovative new approaches in the prevention of crime, and someone to reach out and build a strong connection between the single service and the local communities it serves. Those are key strengths we have identified in him and that he will bring to the wider police team."
Sir Stephen House announced he would step down from the role in August following a number of criticisms of Police Scotland this year.
The force faced a backlash following the death of Sheku Bayoh, who died in custody after being detained by officers in Kirkcaldy in May.
Pressure had also been mounting on Police Scotland after the deaths of John Yuill and his partner Lamara Bell in a road crash in July that went undiscovered for three days after being reported.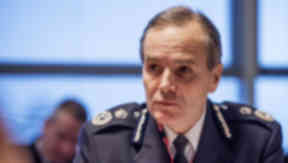 In July, Mr House admitted an experienced official failed to log the call from the member of the public three days before Mr Yuill and Miss Bell were found on the M9 near Bannockburn.

Police Scotland was also criticised for the use of armed police patrolling the streets of Inverness in May last year.
Days before Sir Stephen announced his decision to vacate the role a joint Scottish Police Authority and Police Scotland officer and staff engagement survey found one in three police officers want to quit their posts within three years.
The survey also revealed that around three quarters of officers believe they do not have the resources to do the job properly.
The former chief constables three-month notice period finished on November 30 while Mr Gormley retired from the NCA a few months ago.
Brian Docherty, chairman of the Scottish Police Federation said: "We congratulate Mr Gormley on his appointment as the Chief Constable. He has a long career and considerable policing experience. There is no question that Mr Gormley faces an extremely challenging and difficult job and we wish him every success in his new role.
"The financial climate has never been more difficult and it will be his job to try to ensure the police service has the budget it needs to cope with the heightened terrorist threat, the ongoing costs of reform and every other aspect of policing. Internally, he faces a workforce which has recently reported unprecedented high levels of dissatisfaction with the job and action needs to be taken to address that.
"Mr Gormley's entire policing career has been forged in England. In the past we have expressed concerns that policing in Scotland has had its unique identity diminished due to a lack of understanding of our own challenges and issues.
"We have already met with Mr Gormley and are delighted that he has acknowledged his willingness to listen and learn. We look forward to working with him and to his building a strong team around him to ensure policing in Scotland is delivered in a manner our communities demand and deserve.
Who is Philip Gormley? Read our fact file below.