Philip Gormley: Profile of new chief constable of Police Scotland
A fact file on the new head of the single Scottish police force who replaces Sir Stephen House.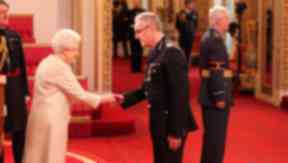 Phil Gormley has been announced as the new chief constable of the single Scottish police force, becoming only the second person to fill the role.
Sir Stephen House previously oversaw the changes to policing in Scotland since the force was created in April 2014 but came under heavy criticism this year on a number of issues.
His successor Mr Gormley comes in with more than 30 years of policing experience, with a decade of that in top level jobs.
After graduating from the University of Gloucestershire in 1984, Mr Gormley joined Thames Valley Police the following year where he worked up the ranks.
In 1999 he became the commander responsible for Southern Oxfordshire moving on to do a post-graduate at the University of Cambridge.
Mr Gormley then earned a promotion with the Metropolitan Police as a commander of specialist operations from 2003 to 2007, in which time he dealt with firearms aviation security and counter terrorism measures.
He left the Met to become the deputy chief constable in the West Midlands, a position he held for three years before becoming the chief constable of Norfolk constabulary in March 2010 where he inherited more than 1600 officers.
One of the plans for the constabulary to save money came in January 2013 with the idea of merging the Suffolk and Norfolk control rooms, which would have resulted in the loss of 134 jobs and saving of 1.85m. However these plans have now been scrapped.
Only the year previous Mr Gormley was awarded the Queens Police Medal in the New Year Honours List and recognised for his plan to bring the two constabularies closer together. Upon leaving in May 2013, crime figures showed Norfolk was one of the safest places in the country.
He left the post in Norfolk to become the deputy director general at the National Crime Agency, where he remained until applying for the Police Scotland post. He labelled the job at the NCA a "once-in-a-lifetime" opportunity which saw him help with the running of the day-to-day running of the organisation.
The NCA is already foreseeing a change with Keith Bristow, the current director general, stepping down from the post to be replaced by Lynne Owens in January.
He retired from the National Crime Agency a few months ago where hed been in charge of tackling serious and organised crime across the UK, particularly targeting paedophiles and child abuse rings.
Taking on the role at Police Scotland he inherits 17,000 full time police officers, 1400 special constables and 5000 other members of staff.
He is also married with one daughter.