Train fares in Britain will rise by an average of 1.1% from January
The new fares will take effect on January 2, rail industry body the Rail Delivery Group announced.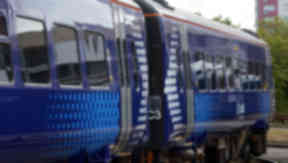 Train fares in Britain will rise by an average of 1.1% next year.
It is the smallest annual increase since 2010 but passenger groups warned more work is needed to achieve a "truly affordable railway".
The new fares will take effect on January 2, rail industry body the Rail Delivery Group (RDG) announced.
The average rise for regulated fare, roughly half of the total and includes season tickets, is limited to no more than 1% as it is linked to July's rate of Retail Price Index (RPI) inflation.
But unregulated fares, such as off-peak leisure tickets, go up by whatever amount the train companies decide.
The average rise for all fares in England, Wales, and Scotland was announced as 1.1%. Northern Ireland is treated separately.
Martin Abrams, of the Campaign for Better Transport, noted fares in Britain have increased by over 25% in the past five years.
He said: "To avoid pricing people off the railways, the train operating companies and the Government need to work closely together to provide fairer, simpler and cheaper fares through flexible ticketing and making sure people are always sold the cheapest ticket available."
David Sidebottom, passenger director at the independent watchdog Transport Focus, claimed passengers would be relieved regulated fares are capped at inflation and there is no flexibility for individual ticket prices to go up by more than this.
But he added: "Fares are still going up overall, on the back of years of above-inflation increases.
"Now passengers are paying more than ever before, it is absolutely critical that the industry delivers a more reliable day-to-day railway and starts to offer more flexible ticketing products."
Shadow transport secretary Lilian Greenwood claimed "the Christmas cheer will end early for thousands of commuters when they return to work".
She said: "Commuters were always told that higher fares would fund investment, but vital projects have been delayed for years and passengers are paying ever more to travel on increasingly overcrowded and unreliable trains. It's clear that the railways are in urgent need of reform."
Rail, Maritime and Transport union general secretary Mick Cash commented: "Today's rail fare hike is yet another kick in the teeth for the British passenger who is already paying some of the highest fares in Europe to travel on clapped out and overcrowded trains.
"With inflation hovering around zero, today's fare increase is all about ring-fencing and increasing the profit margins of the rip-off private rail companies who, once again, will be laughing all the way to the bank."
Commuters with annual season tickets can find out how much their fare will be next year on the National Rail Enquiries website.
Paul Plummer, chief executive of the RDG which represents train operators and Network Rail, said: "We know nobody likes to pay more to travel by train, especially to get to work, and at 1.1% this is the smallest average increase in fares for six years.
"On average 97p in every pound from fares is spent on trains, staff and other running costs.
Rail Minister Claire Perry claimed the Government was "helping hard-working people with the cost of transport" and said the decision to link regulated fare increases to no more than RPI will save the average season ticket holder425 by 2020.
She added: "Our plan for passengers is improving journeys for everyone. It's transforming the tickets people buy, how much they pay for them, the trains they sit on, how quickly they arrive and the stations they arrive in."