Sturgeon removes Donald Trump as business ambassador for Scotland
First Minister's move comes after Mr Trump called for 'complete shut down of Muslims entering US'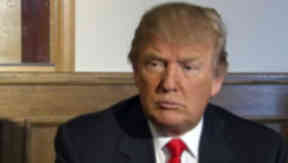 Nicola Sturgeon has removed US presidential candidate Donald Trump as a business ambassador for Scotland.
The First Minister made the decision following comments from the property tycoon on Monday which called for a "complete shut down of Muslims entering the United States" in the wake of a fatal shooting in the US.
David Cameron's official spokeswoman also said he "completely disagrees" with Mr Trump's comments.
She said: "The Prime Minister completely disagrees with the comments made by Donald Trump, which are divisive, unhelpful and quite simply wrong."
Mr Trump, who owns luxury golf resorts in Ayrshire and Aberdeenshire, was invited to join GlobalScot, the worldwide network of business leaders dedicated to helping Scottish companies thrive, in 2006.
However, Ms Sturgeon has now deemed that his remarks have "shown that he is no longer fit" to represent Scotland as a business ambassador.
A Scottish Government spokesman said: "Mr Trump's recent remarks have shown that he is no longer fit to be a business ambassador for Scotland and the First Minister has decided his membership of the respected GlobalScot business network should be withdrawn with immediate effect."
Thousands of people have also signed a petition calling for a Scots university to strip Mr Trump of his honorary degree following the remarks.
More than 10,000 people have so far signed a petition asking the Robert Gordon University (RGU) to revoke his doctorate.
Mr Trump was controversially awarded his doctorate in 2010 in recognition of his "business acumen and entrepreneurial vision".