First Minister welcomes Paris climate deal as 'big step forward'
An agreement to tackle climate change was thrashed out at United Nations talks in Paris.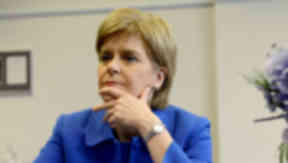 Scottish politicians and environmental organisations have welcomed the international deal to tackle climate change at United Nations talks in Paris, which was agreed on Saturday evening after six days of intense negotiation.
The deal, agreed by 195 nations, is the world's first comprehensive climate agreement with all countries pledging to take action to combat the problem.
First Minister Nicola Sturgeon welcomed the "big step forward" the agreement signals for tackling climate change and reaffirmed the Scottish Government's commitment to dealing with the issue.
She said: "COP21 has, as we had hoped, achieved a big step forward in the international fight against climate change.
"This historic agreement sends a signal of certainty about the global economy's low carbon future, in the same way as we did for Scotland through our world-leading climate legislation in 2009. We want to avoid the worst impacts of climate change falling on the poor and vulnerable.
"Now that the talking is over, what's important is that the rhetoric is backed up by meaningful action - not least in the crucial area of energy policy where we need the UK to assist Scotland's drive to develop renewables and carbon capture and storage, not stymie it as they have done this year.
"Devolved administrations, like the Scottish Government, will be strong drivers of a progressive climate agenda. We look forward to working with our international partners to secure the successful implementation of the Paris Agreement."
WWF Scotland director Lang Banks, who had been in Paris as an observer, said: "While we did not achieve all that we wanted from the Paris agreement for people and nature most threatened by climate change, we all return home ready to push our national governments to deliver on the promises they did make and work to strengthen the national actions triggered by the new agreement.
"The Paris moment created several firsts, including the securing of pledges from over 180 nations to limit their climate change emissions, as well as seeing transformative plans to massively scale-up renewables across India, African nations, and many other countries.
"Now that the talks are over, it's time for the real action to step up a gear. Hundreds of thousands mobilised across the world on the opening weekend of the talks, including more than 5,000 in Edinburgh, to show they want our leaders at home and internationally to take meaningful action on climate change.
"The ambition shown by people, communities and businesses working towards positive solutions is already massive, and now governments must match that and harness the environmental, social and economic benefits of tackling climate change."
Banks also praised Nicola Sturgeon's contribution to the talks, adding: "During the course of the talks it was great to see the First Minister in Paris sharing Scotland's ambitious climate story internationally. We can rightly be proud of Scotland's climate legislation on the world stage but its true value lies in turning our ambitions into actions to create a thriving, low-carbon, socially-just Scotland.
"Next week's draft budget will be an acid test of the Scottish Government's commitment to climate action. A clear, long-term funding plan for boosting the energy efficiency of our homes and tackling fuel poverty would send a strong signal about Scotland's intent to meet future targets. Indeed, all political parties should be responding to the global challenge that has been laid down by setting out manifesto pledges that will ensure we meet our climate act targets and fully grasp the benefits of Scotland's climate change ambition."
Other groups were not so happy with the final deal, with Friends of the Earth Scotland claiming it does not "deliver a deal that urgently tackles the climate crisis and the needs of those most vulnerable"
Dr Richard Dixon, director of Friends of the Earth Scotland, said: "Despite the hype and the extra day of negotiations, the Paris climate talks have failed to deliver a deal that urgently tackles the climate crisis and the needs of those most vulnerable to its impacts.
"With bullying tactics and throwing in some piecemeal pledges, rich countries have pushed through an Agreement that spells bad news for people and the planet.
"By delaying critical action to cut greenhouse gas emissions and failing to put sufficient finance on the table leaders have effectively signed a death warrant for millions of the poorest people around the world."
The charity also criticised the lack of legally binding obligations in the deal to ensure its success and the failure to establish a date to end the use of fossil fuels.
Dixon added: "However while world leaders argued, tens of thousands of people all over the world have been taking to the streets to demonstrate their commitment to the climate movement. It's clear that the fight for climate justice does not end in Paris. Communities around the world are already taking action to put an end to the dirty energy sources that are polluting our planet and building a better future around clean, community-owned renewables.
"We always knew that this conference would not do enough and we'll be working with others across Europe to make up for the lack of will from world leaders. Friends of the Earth Scotland will be fighting fossil fuels, including fracking, promoting community renewables and campaigning to shift investment out of fossil fuels.
"Yesterday we launched our new Fossil Free Scotland campaign which aims to make Scotland fossil free within a generation."
The text sets out a plan for the world to commit to keeping rises "well below" 2C, and "pursue efforts to limit the temperature increase to 1.5C".
The long-term goal on emissions reductions has changed from "greenhouse gas emissions neutrality" in the previous draft, when some countries said they did not know what the term meant.
Now it calls for greenhouse gases to peak as soon as possible, undertake rapid reductions "in accordance with best available science", and "achieve a balance between anthropogenic emissions by sources and removals by sinks of greenhouse gases in the second half of this century".
The language is weaker than some previous options which had specific figures for emissions cuts. But it references the science, and the latest report by the Intergovernmental Panel on Climate Change (IPCC), approved by governments, warned emissions would have to come down by between 40-70% for the 2C goal and 70% to 95% for the 1.5C goal by 2050 and ultimately reach net zero to stabilise the climate.
Countries are to submit climate action plans for what they will do to curb global emissions, with a five-yearly system of reviewing and updating them with growing levels of ambition.
They are being requested to update the contributions they have already made by 2020.
The text ensures there will be finance for poor countries to develop along a low-carbon path and to cope with the impacts of climate change, with developed countries continuing to mobilise $100bn (£65.7bn) a year in public and private finance until 2025, and will scale up finance flows after that.
And there is differentiation across the deal between developed and developing countries in terms of what they will do to curb emissions.
Prior to the signing of the deal, French foreign minister Laurent Fabius, who chaired the talks, said: "It's my deep conviction that we have come up with an ambitious and balanced agreement."
He told ministers: "You are going to be deciding a historic agreement. The world is holding its breath, it's counting on all of us."
In a rhetoric-laden speech, French president Francois Hollande emphasised the seismic impact of the deal, telling the ministers who took part it would be a major leap for mankind.
He said: "You will make a choice for your country, for your continent, but also a choice for the world. It will be a major leap for mankind."
He added: "History is here."