Life behind bars for 'vile' paedophile ring leaders
Neil Strachan and James Rennie sentences for 'dreadful crime' branded a 'strong message' by police.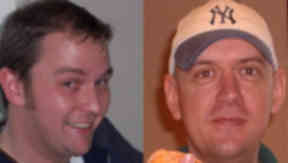 The two ringleaders of Scotland's most prolific paedophile ring have been sentenced to life imprisonment.
Convicted sex offender Neil Strachan will serve a minimum of 16 years before being eligible for parole, while former gay rights campaigner James Rennie will serve at least 13 years.
The pair were sentenced at the High Court in Edinburgh on Thursday after being found guilty in May of a string of child pornography and abuse charges.
The decision to hand down life terms was welcomed by police, who said the sentences sent a strong message that child abuse and exploitation will not be tolerated.
Strachan, 40, and Rennie, 38, were snared alongside six other men linked through online chat rooms following a major 18-month police investigation. The others had already been jailed for a total of 43 years.
Rennie had been chief executive of a sexual advice centre for teenagers until his sordid double life was exposed.
A jury found him guilty of offering to let friends abuse a baby boy he was looking after.
Strachan sent Rennie a photo of himself abusing another youngster who was only 18-months old.
The pair, both from Edinburgh, were also found guilty of a catalogue of child porn offences as well as conspiring to abuse children.
Sentencing, Lord Bannatyne told Rennie: "It seems to me that you were right at the heart of this conspiracy. You were one of the prime movers in this conspiracy.
"You were, in my judgment, like a spider at the centre of this conspiracy, weaving an electronic web bringing to fruition this appalling crime."
Turning to Strachan and commenting on the so-called "Hogmanay picture" of him and the toddler, the judge said: "By its very nature what is shown in that photograph is utterly appalling and would shock to the core any right-minded person who has to see it."
He told Strachan he had grossly breached the trust of the family of the little boy to satisfy his base sexual interests.
Dealing with the conspiracy charge, the judge told Strachan: "You were in my view, on the evidence, a central player in this dreadful crime."
Following their sentence today, Detective Superintendent Allan Jones said: "No jail sentence, however lengthy, will ever begin to compensate Strachan and Rennie's victims and, first and foremost, our thoughts are with them.
"Any reasonable human being would be repulsed by the vile acts of these men, the images they shared, and the discussions they participated in online."
A ten week trial, which ended in May this year, heard how a computer hard drive linked to Strachan was sent for repair and found to contain indecent pictures of young boys.
Computer experts also revealed that Strachan had sent a photo of himself having sex with an 18-month-old boy to Rennie.
Police said Rennie sent out sick e-mails offering access to a little boy he had been baby-sitting since the tot was only three months old, and regularly abused the youngster himself.
Morag McLaughlin, Area Procurator Fiscal for Lothian and Borders, said: "It is clear from the evidence in this case that the accused saw no limits on how far they would share, exploit and abuse children in order to satisfy their own horrific sexual gratification.
She added: "We will ensure that those intent on committing child abuse will be brought to justice and get a sentence which reflects both their actions and their intentions."
In total, nearly 125,000 indecent images were seized during Operation Algebra.
The other men involved were sentenced in June, with Glasgow civil servant John Milligan receiving the longest jail sentence of 17 years.
Insurance worker Craig Boath from Dundee was jailed for nine years and nine months, while bank teller Ross Webber from North Berwick was jailed for eight years and nine months.
All three were convicted of plotting to participate in the sexual abuse of children, as well as child porn charges.
IT worker Colin Slaven from Edinburgh was jailed for three years for his involvment in the ring.
Glasgow cake firm manager Neil Campbell was ordered to spend three years and four months behind bars, while sauna receptionist John Murphy, also from Glasgow was jailed for two years.
Detective Superintendent Jones said: "The Operation Algebra investigation gave us an insight into why and how individuals indulge in this sort of behaviour and these lessons will continue to help us target those that pose the greatest risk to our children and other vulnerable citizens.
"Sadly there are others who continue to use technology, like the internet, to engage in child abuse and exploitation. While Operation Algebra represented a network uncovered by Lothian and Borders Police, this is not an issue that is unique to our area, and this is something Scottish Forces are now working together on."