Everyone to have palliative care access, pledges Scottish Government
Government ministers say quality care will be made available to all, regardless of age or diagnosis.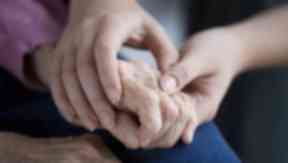 Palliative care will be made available to every Scot, regardless of diagnosis, in a new government strategy.

Backed by a £3.5m investment, the Strategic Framework for Action on Palliative and End of Life Care was published on Friday, addressing what is described as "one of the most challenging issues of the day".
It reveals the Scottish Government's plans to provide care for all over the next five years, regardless of age, diagnosis, socio-economic background or postcode.
Staff across health and social care will be offered improved access to training for patients nearing the end of life, as part of the new framework.

Health secretary Shona Robison said: "Many people will have gone through the extremely sad process of looking after a loved one towards the end of their lives. This will always be a difficult experience, but our health and social care services have a crucial role to play in making it as dignified as possible, and ensuring that the patient's wishes and needs are taken into account.
"Scotland already has a very good reputation for our palliative and end of life care. But we are determined to keep improving. One of the key areas we want to improve is on the consistency of services.
"Through this new framework we want to make sure that everyone receives high quality palliative care - tailored to their own symptoms and life circumstances. This should be delivered to the same high standards, regardless of where you live, or what your illness is."
The strategy has been backed by charities including Marie Curie and Children's Hospice Association Scotland (CHAS), who say that "quality" palliative care should be a "right for everyone in Scotland".
Head of policy and public affairs for Marie Curie in Scotland Richard Meade said: "Marie Curie welcomes the publication of the Strategic Framework for Action on Palliative and End of Life Care and its commitment to ensure that everyone in Scotland has access to palliative care when they need it.
"We now look forward to working with the Scottish Government, NHS Boards, Local Authorities and other partners to deliver on this ambition."