More than 700 extra police drafted in ahead of busiest night of year
Police Scotland deploys hundreds of additional officers across country as festive revellers descend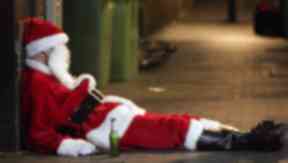 Around 700 extra police will hit the street across Scotland as Christmas revellers go out for the busiest night of the year.
Police Scotland is deploying hundreds of additional officers across the country as festive shopper and revellers descend on our town and city centres on Friday December 18.
Officers are being deployed to tackle violence, disorder and anti-social behaviour as well as dealing with a range of issues including domestic abuse, bail checks, roadside checks to tackle drink driving, licensed premises checks and high visibility patrols.
Police across all regions of the country will deploy extra officers and have developed an action plan to deal with any trouble.
Glasgow has introduced a scheme to allow drinkers a safe haven if they need help while on a night out. The NiteZones will be in operation over the festive period and are situated at the city's Gordon Street, Sauchiehall Street, Albion Street, West George Street, Byres Road, and Shawlands.
A statement from the force said: "We've around 700 additional officers out on the streets tackling and preventing violence, disorder and anti-social behaviour across Scotland today.
"Officers will be dealing with a range of issues including domestic abuse bail checks, roadside checks to tackle drink driving, licensed premises checks, underage drinking, as well as high visibility patrols to help keep people safe.
"Our increased presence is sure to create a safer environment for everyone to enjoy themselves over one of the busiest weekends of the year."
Superintendent Dougie Milton who is leading the deployment from Fife Divisional Headquarters in Glenrothes said: "We want everyone to enjoy their Festive celebrations and stay safe in the process.
"We are working with our partners in the Scottish Ambulance Service, Fife Alcohol Support Service, Fife Council, the British Red Cross and Dunfermline Street Pastors among others to operate the Dunfermline Safe Zone at the Hub in Douglas Street.
"Anyone needing help and advice in Dunfermline can turn up there and have minor injuries treated or if theyve missed their last bus home, they can get a bed for the night.
"Local officers in the other Fife towns will also be joined by extra officers from across the Kingdom and other specialist departments from across Scotland."
Inspector David Howieson, of Aberdeen City Centre Community Policing Team, said: "We will have officers out patrolling the city centre on foot and on mobile patrols however I would urge anyone coming into the city centre tomorrow night or at any time over the festive period to take personal responsibility for their actions and safety.
"Over the last week we have been posting a different festive safety video each day which were produced by students from the Robert Gordon University. The messages have included the following;
"We want everyone who goes out on Friday night and over the weekend to have an enjoyable evening and to stay safe. If you haven't already watched our safety videos, I would suggest taking a moment to watch them.
"Keeping safe will ensure you remember your festive night out for all of the right reasons."