Homes evacuated and thousands without power as Storm Frank hits
Passengers trapped inside a bus which is stranded in deep floodwater in South Ayrshire.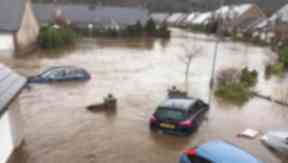 Residents have been evacuated from their homes after much of Scotland was battered by torrential rain and gale-force winds during Storm Frank.
Over 6000 homes have also been left without power as the Met Office put a "be prepared" warning in place covering all mainland regions, with the exception of the Highlands, as Storm Frank swept in on Tuesday night into Wednesday morning.
Passengers were stranded inside a bus which was swept into a flooded river in South Ayrshire.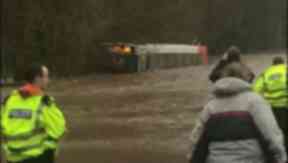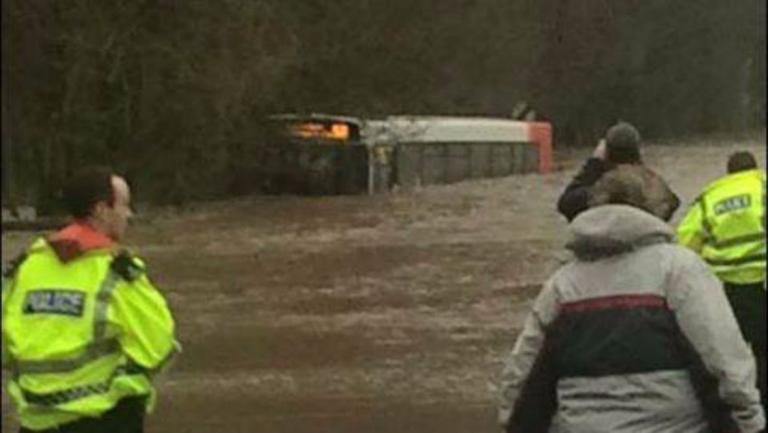 A Stagecoach bus became trapped in flood waters in Dailly. Police Scotland said 10 adults and 2 children aged 7 and 5, were rescued.
Jacqueline Hendry, who was at the scene, said: "I was passing in my car when I saw a lot of ambulance, fire and police.
"The bus was near enough submerged and the road was closed.
"I'm not sure if the driver maybe hasn't been told, but the its led to quite a grim result.
"The road runs alongside the River Girvan, which has burst its banks and the bus looked like it had been pushed into the water.
"There were people still on board, and the bus was in almost complete darkness. It was hard to tell how many were inside, but there were definitely people trapped."
A spokeswoman for Stagecoach said: "One of our buses was involved in an incident earlier this afternoon in which it became stuck in severe flooding near Brunston Castle Golf Course in Dailly.
"We understand the fire service is working to help the passengers exit the bus as quickly as possible.
"We understand that there are no injuries to any customers or the driver, however our immediate concern is for the welfare of those involved and we are assisting the fire service in any way we can."
Emergency services also attended the scene after a kayaker got into difficulty in the River Findhorn.
A call for assistance was made at around 12.30pm after the man began to struggle in the water.
Aviemore Caravan Park was evacuated as rising water levels became unmanageable.
In a statement, police urged Hogmnay visitors to the park to make other arrangements.
"Police are aware that a number of people will have made plans to visit the area during the Hogmanay celebrations and it is advised to those who are planning to stay at the park or in the nearby vicinity that they now consider other options," it read.
Roads authorities, police and the coastguard have urged people in areas that experience severe weather to avoid unnecessary travel.
Scottish Hydro Electric and Scottish Power confirmed that thousands of homes had suffered power cuts, with the highest number of houses hit in Braemar and Ballater.
Firefighters also began evacuating residents in the north-east village after it was hit by major flooding. Crews were sent out to begin the process at around 8.45am on Wednesday.
STV reporter Colin Wight, who was at the scene in Ballater, said conditions are 'horrendous' as the swollen River Dee burst its banks .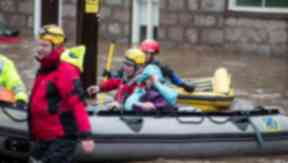 He said: "The main street has been turned into a river. Emergency services are here and they are using dinghies to evacuate people from their homes.
"Those being evacuated are being taken to the town's Victoria Hall."
A coastguard helicopter winched at least two residents to safety. A group of three firefighters also had to be airlifted when they became stranded in the rising waters.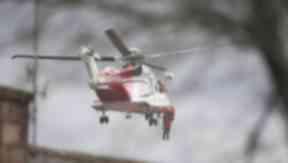 Around 6000 homes were without power across the country. In Aberdeenshire, around 1700 homes are without power in areas including Fraserburgh, Kintore, Durris, Cruden Bay and New Deer.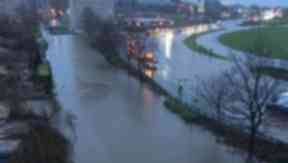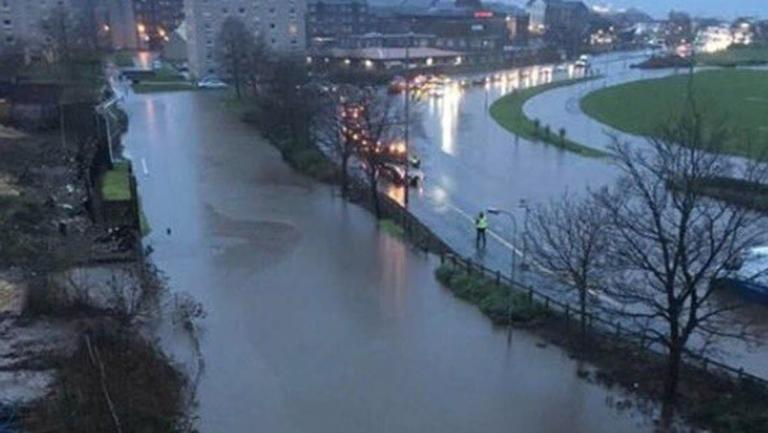 A second meeting of the Scottish Government's resilience committee was held as Storm Frank continued to affect much of Scotland.
The First Minister, deputy first minister and portfolio ministers have been updated on the emerging weather situation and the work underway with local partnerships to co-ordinate the response and ensure at risk areas are as prepared as possible.
Flooding also forced the closure of roads across the regions and bus, rail and ferry services were all suffering disruption this morning.
Key routes including the M8 and the M74 had lanes and junctions shut due to surface water. The M74 was closed in both directions at junction 13 Abington from late Wednesday morning.
In East Ayrshire, travellers were asked to avoid New Cumnock and there were reports of cars stuck in water at Newark roundabout in Port Glasgow, Inverclyde. The A77 Cairnryan to Girvan was also closed due to severe flooding.
The A83 was closed at Rest and Be Thankful due to a landslide and the A85 was shut after flooding at Crianlarich. CalMac ferry sailings between Mallaig and Armadale and Oban and Craignure were cancelled, with the Largs to Cumbrae service also suspended.
ScotRail said services between Glasgow and Inverness, Carlisle and Kilmarnock were affected.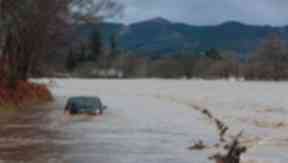 A number of roads across Aberdeenshire are closed due to flooding and Ballater is inaccessible. The A93 between Cambus O' May, Ballater and Braemar is closed as well as between Banchory and Aboyne. Police are urging motorists to not drive in the Deeside area unless necessary.
The Dee Bridge at Ballater, linking the A93 North Deeside Road and B976 South Deeside Road is closed, as is the Pass of Ballater.
There was also major flooding in Greenock, Port Glasgow, Mount Florida in Glasgow and Straiton in Ayrshire.
Communities in the Borders have been told to prepare for up to 120mm of rain, with Peebles and Upper Tweed expected to bear the brunt.
As well as the Met Office warning, a further 60 flood warnings and 14 flood alerts were issued to the public by the Scottish Environment Protection Agency (Sepa).
Chief inspector Andy McLean, the local area commander, said: "Road conditions are likely to become very difficult due to flooding and standing water, and there is a significant possibility that roads will need to be closed. Drivers should under no circumstances ignore road closed signs."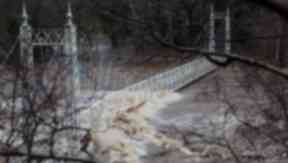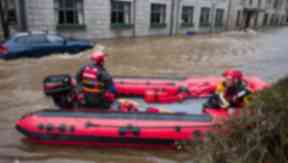 Police in Tayside also warned of potential travel disruption due to flooded roads and advised drivers to pay close attention to the latest travel news before getting behind the wheel.
The Met Office said a deepening area of low pressure was likely to bring "a swathe of gale and severe gale-force winds" across parts of Scotland, with gusts of up to 80mph in exposed areas.
Several bus and ferry services have been cancelled in the Western Isles due to the conditions. Coastguard advised vessel owners to think twice before venturing out in the expected storms and told photographers to avoid putting themselves in danger.
Mark Rodaway, commander with HM Coastguard, said: "Check the weather and tidal conditions before you set out so you can prepare your vessel accordingly, or even ask yourself whether you should be going out at all.
"At sea, changes in tidal streams could make conditions worse, particularly if the wind and tide are against each other, but above all don't take risks when a storm at sea is involved.
"We've all seen the dramatic pictures of flooding inland and some equally dramatic images from coastal storms.
"Do not be tempted to go out and take those photographs yourself. No photograph or selfie is worth risking your life for."
The extreme weather is expected to clear in time for Thursday's Hogmanay celebrations.
Met Office spokeswoman Nicky Maxey said: "Currently New Year's Eve and New Year's Day are warning-free.
"We're expecting the weather to be much more settled, with patches of sunshine in some areas alongside showers in other places.
"We're also expecting temperatures to dip to a much cooler temperature than we've seen of late.
"Rain showers expected in the next few days could fall as snow in areas over 400 metres. There could also be some frost overnight."