Severe flooding warnings as heavy rain and high winds hit Scotland
The Met Office has forecast heavy rain and floods in the north east, central and eastern Scotland.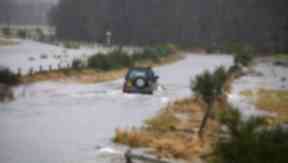 Warnings of severe flooding having been issued as heavy rain and high winds continue to batter Scotland.
Torrential downpours and powerful gusts hit the north east, central and eastern Scotland on Thursday.
The Scottish Environmental Protection Agency (Sepa) has warned severe flooding is likely in Aberdeen and Aberdeenshire, accompanied by extensive damage to property, forcing evacuations and causing serious disruption to travel.
Aberdeen Airport was closed on Thursday evening as heavy rain caused a hole to form on the runway. Planes were being diverted as emergency repairs were carried out.
Due to excessive rainfall, we have shortened the runway length for the forseeable future. Pls contact airline for further info

— Aberdeen Airport ✈ (@ABZ_Airport) January 7, 2016
The main east coast road route, the A90, was closed northbound following flooding at Brechin.
The town of Ballater was badly hit by floods earlier this week and rising river levels mean further flooding is likely.
Less serious but significant flooding is expected in Dundee, Angus, Fife, the Scottish Borders and parts of Tayside, with 16 rivers across Scotland at serious risk of bursting their banks.
Flooding also saw the rail line between Aberdeen and Dundee closed to all services on Thursday evening.
Scotrail said the flooding had occurred at "several locations" and that replacement transport had been requested but could not be guaranteed due to deteriorating road conditions.
Glenbervie Primary School in Aberdeenshire was closed on Thursday after high winds tore part of the building's roof off, along with Aboyne Academy and Primary, Crathie, Keig, Strachan, Strathdon, Tarland and Towie schools.
In Angus, Airlie, Glamis, Inverarity and Stracathro primary schools were shut.
The A90 Aberdeen to Dundee road flooded between Cove Bay and Stonehaven on Thursday morning and the B977 Dyce to Fintray road was blocked between Parkhill crossroads and A947 after a tree fell across the road.
Flood gates were closed as a precaution on the River Carron in Stonehaven, Aberdeenshire. The town was badly hit by flooding in 2012.
Police said the A96 Aberdeen-Inverurie was closed between Forrit Brae and the Airport Roundabout due to "significant localised flooding".
The Scottish Government has pledged to provide additional funding to help flood-hit councils recover from the extreme weather in the wake of Storm Frank.
A Sepa spokesman said: "Heavy rainfall and hill snow will affect much of Scotland on Thursday, especially over eastern Tayside, Angus and Aberdeenshire.
"While the rain will become more showery across the south west, it will persist in north eastern areas where very high totals of up to 80mm are expected during the next 24 hours.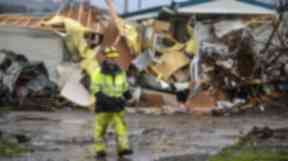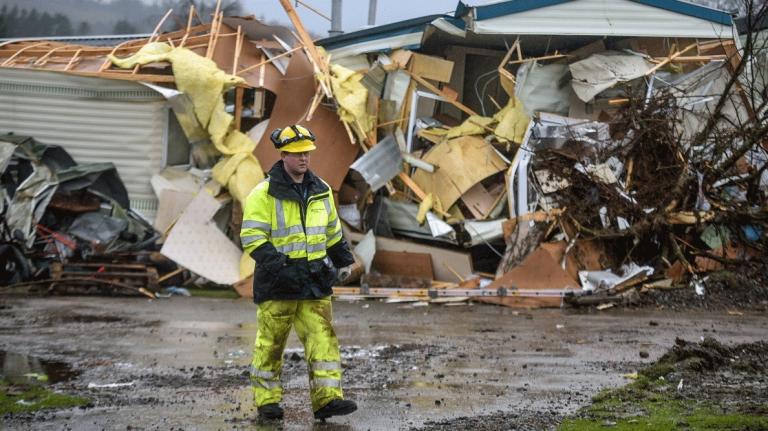 "The saturated conditions across Aberdeenshire, Tayside and Angus will mean that there is a likelihood of significant flooding during Thursday and overnight into Friday.
"The prolonged heavy rain overnight and throughout today is causing river levels to rise again with peak times expected to be late on Thursday night and early Friday morning. Particular concern today is focused on flood prone areas close to the River Don and River Deveron, which could potentially see severe flooding impacts.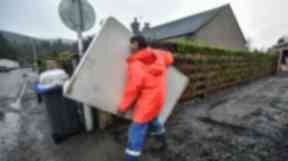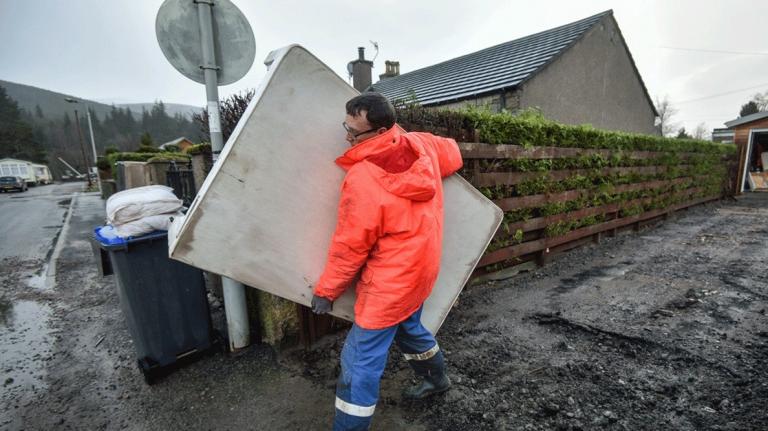 "Other areas at risk of significant flooding impacts today include the River Isla, the lower Tay and Angus rivers.
"Significant flooding impacts are likely to be widespread across the north east in general with flooding expected to affect communities and cause disruption to infrastructure and travel.
"Elsewhere across the Borders, Lothian and Fife flooding impacts will also be experienced. Smaller watercourses will be at risk of causing localised disruption.
The overall risk of flooding is expected to fall as we move into the weekend. However due to river levels remaining high, there remains the potential for significant impacts if further significant rain occurs."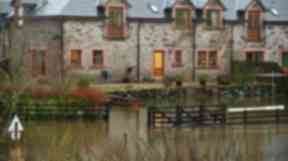 STV weatherman Sean Batty said: "The Met Office have issued another amber weather warning for Thursday.
"We had steady rainfall accompanied by snow on Wednesday but it wasn't overly heavy. On Thursday we'll see some rain from the south west with some heavy bursts along it and it could again cause flooding.
"The water tables are high across Angus and it won't take too much more rain to create more problems. Two to three inches of rain will fall across the east of the Grampians and we'll need to keep an eye on river levels."
January is likely to be the wettest on record for many parts of the country, including in Aboyne, where double the average monthly rainfall fell in five days.
Sean added: "In January 2015, Aboyne experienced 54mm of rain, and this year it has seen 136mm in just five days. The average is 66mm so Aboyne has already had twice the rainfall it would expect for the whole month.
"The record for Abyone in January is 186mm so we're still a bit off the record but there's still three weeks to go in the month and it would have to be very dry not to break that record.
"The weather looks a bit drier next week but temperatures are likely to become colder and ice could be an issue."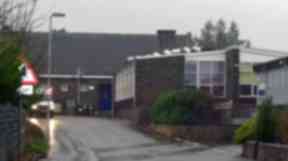 The Scottish Government's resilience committee met to discuss the latest warnings.
Environment minister Aileen McLeod said: "Across parts of Scotland communities are working together to begin to recover from the impact of Storm Frank. As the clear-up continues, further rain is forecast.
Environment minister Aileen McLeod said: "Across parts of Scotland communities are working together to begin to recover from the impact of Storm Frank. As the clear-up continues, further rain is forecast.
"The Scottish Government's resilience committee has met again to help co-ordinate and support local efforts to prepare for this additional rain and we will continue to monitor the situation carefully."