Starman: Meet the singing astronaut who paid tribute to Bowie from space
The astronaut who famously recorded Bowie's extraterrestrial anthem in space will visit Edinburgh.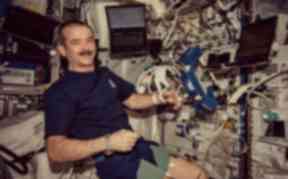 In 2013, astronaut Chris Hadfield received David Bowie's blessing to record a rather unique version of Space Oddity.
In a stunt that rocketed his already sizeable internet fame, the Canadian colonel filmed his own take on the Bowie hit from the International Space Station.
During the five-month mission, Hadfield attracted an online following by tweeting the likes of Queen Elizabeth and William Shatner, as well as posting videos and photos about daily life on the satellite.
Now hailed as a Canadian icon, the astronaut has embarked on a motivational lecture series across the UK and Ireland - he will arrive in Edinburgh's Usher Hall on Thursday.
After a career spanning 35 years, Hadfield's connection with Bowie's music has become even more significant in the wake of the Starman's death.
Hadfield wrote the following tribute to his musical idol.
"David Bowie has died. It leaves me and, I suspect, millions around the world, with an instant feeling of loss and emptiness - and yet also a wistful joy, a sense of how creative and inspirational just one of us can be.
"His art defined an image of outer space, inner self, and a rapidly changing world for a generation finding themselves at the confluence. I am honoured to have been able to return some of that favour.
"Being able to record Oddity on the International Space Station was an attempt to bring that art full circle. It was meant as a way to allow people to experience, without it being stated, that our culture had reached beyond the planet. We live in space. I thank him for allowing us the opportunity, and for being so kind since.
"With much respect to a genius, a silent moment of reflection: ashes to ashes, dust to stardust. Your brilliance inspired us all. Goodbye Starman."
More about Chris Hadfield
Born: August 29, 1959
Raised: On a farm in Milton, Ontario
Family: Wife Helene Hadfield and three children
Hobbies: Skiing, playing guitar, singing, squash, entertaining millions of earthlings with dish cloth trivia
Orbits of Earth: 2600
Space flights: Three
1977: Graduated high school.
1978: Joined the armed forces 1982: Received a degree in mechanical engineering from Royal Military College, Kingston.
1991: Was the US Navy Test Pilot of the Year.
1995: Was the first and only Canadian to board the Russian Space Station Mir - this was during a mission to transfer over 1000kg of food, water and scientific supplies to the cosmonauts.
2003: Retired as a colonel from the Canadian Air Force, following three years as director of operations for NASA at the Yuri Gagarin Cosmonaut Training Centre in Star City, Russia.
2005: Inducted into Canada's Aviation Hall of Fame.
2010: Was part of a research team whose work involved making it easier to identify potential forms of extraterrestrial life on future missions to Mars.
2013: Recorded a music video for Space Oddity from the International Space Station. He was also the first Canadian to command a spaceship as Commander of the ISS during the second portion of his five-month stay.
2014: In the wake of his first best-selling book An Astronaut's Guide to Life On Earth, Hadfield released You Are Here: Around the World in 92 Minutes. The book showcased a collection of unseen images of Earth from the International Space Station.