Green leader to blast 'casino capitalism'
Patrick Harvie to attack main political parties at Scottish Greens' annual conference in Dumfries.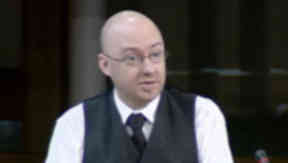 Green co-leader Patrick Harvie will attack the main political parties on Saturday for their support of "the excesses of casino capitalism".
The Glasgow MSP is to address activists at the Scottish Green Party's conference in Dumfries.
The two-day long event has the theme "Green - the Colour of Money", and Mr Harvie will use his address to put forward his party's vision for a society which "values the wellbeing of all people more highly than the material wealth of the richest few".
He will tell the conference: "For years Greens have argued that the market-dominated economic policy of the old parties could only end in failure.
"Over the course of this year we've seen that failure played out in appalling fashion. It has been a failure of the market, but also a failure of  politicians who have supported, celebrated, and even courted the excesses of casino capitalism.
"Labour, Tory, SNP and Lib Dems alike have all spent years making speeches about supporting the risk takers - until those risks failed to pay off and the taxpayer was landed with a bill of historic proportions."
Mr Harvie will go on to argue: "The Green movement stands as a challenge to all those parties, opposing the idea that vast sums of taxpayers' money must be committed to re-establish the same failed economic model, which left half the  world in poverty and precious natural resources plundered or squandered."
The conference will also hear from former Liberal Democrat councillor Martin Ford, who chaired the council committee that originally rejected US tycoon Donald Trump's plans for a golf resort in Aberdeenshire.
Mr Ford has now joined the Green Party - which claims to have enjoyed a seven percent increase in its membership in the last year to more than 1,000.