Nazi camp survivor marking Holocaust Memorial Day in Scotland
Inge Auerbacher will share her experiences with pupils in Falkirk and young offenders at HM Polmont.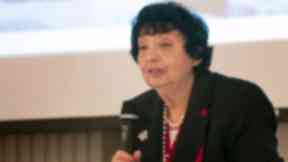 Scotland will mark Holocaust Memorial Day on Wednesday with a national event in Falkirk and other commemorations across the country.
Holocaust survivor Inge Auerbacher will share her experiences with pupils in Falkirk, young offenders at HM Prison Polmont and in a series of lectures and film screenings across Scotland over the coming days.
The 81-year-old, then just a young girl, was held with her parents at the Theresienstadt concentration camp in what is now the Czech Republic for three years during the Second World War.
Although Theresienstadt was not an extermination camp, 33,000 people died there from disease and malnutrition.
Ms Auerbacher moved to the US after the war, where she worked as a chemist and wrote books about the Holocaust.
Holocaust Memorial Day also commemorates those who died in genocides in Cambodia, Rwanda, Bosnia and Sudan
Joining Ms Auerbacher in Falkirk will be former head of the UN in Sudan and whistleblower on the genocide in Darfur, Dr Mukesh Kapila.
Dr Kapila's reports from Darfur brought the abuses committed there to the attention of the world's media in 2003/04.
Drawings by childhood survivors of the genocide in Darfur and used as evidence in the International Criminal Court will also be displayed as part of the memorial.
Olivia Marks-Woldman, chief executive of the Holocaust Memorial Day Trust, said: "On Holocaust Memorial Day, hundreds of thousands of people will come together at events across the country to reflect on the ways in which silence and indifference can allow discrimination, persecution and genocide to take place, as well as honouring those who refused to stand by, and who saved people, or took action against prevailing views and beliefs."
SNP MSP Stewart Maxwell will commemorate victims of genocide in a debate in the Scottish Parliament on Wednesday.
He said: "Holocaust Memorial Day is an important opportunity to remember the millions of people murdered by the Nazis in occupied Europe – and to reaffirm our commitment that this must never be allowed to happen again.
"The theme of this year's Holocaust Memorial Day is Don't Stand By and we should remember the stories of those brave men and women who did not stand by and who saved lives, particularly of Jewish children.
"For those who did not stand by their legacy continues, not only in the lives of the children they saved but in the achievements of those children and their offspring, and in the shining example of love and courage they present to us today.
"But Holocaust Memorial Day isn't just about remembering the past – we should also see it as a call to action for the future.
"Across the globe, there are children living in peril and we should remember those who did not stand by during the Holocaust – and follow their example in offering a hand of friendship, support and solidarity."