Poll finds more than half of Scots want rent control system
Research by Survation for the Scottish Greens found 53.8% backed such a move.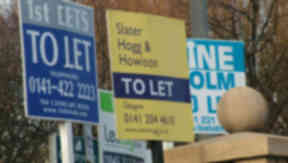 More than half of Scots want to see a a system of rent control introduced to help tenants in private accommodation, a poll has revealed.
Research by Survation for the Scottish Greens found 53.8% backed such a move, which would see limits brought in on the amount rental payments can increase by, with 12.1% against.
Scottish Green co-conveners Patrick Harvie and Maggie Chapman highlighted the finding ahead of a visit to Aberdeen to meet househunters.
Proposals for a system of rent controls, which would allow councils to regulate the cost of renting, taking into account the quality, size and location of a property, were backed by Scottish Greens at the party's conference last October.
Ms Chapman, a Green candidate for the North East region in May's Holyrood elections, said: "Better housing is a fundamental part of a better society.
We must secure affordable, well-maintained homes for all if we are to improve people's health and well being, and have a fairer, more equal economy.
"Across Scotland, we see rent increases outstripping household income. These increases make housing unaffordable in many of our cities and also in rural hot spots. We must put in place rent controls that will return rents to affordable levels.
"We also must crack down on bad landlords. We need urgently to properly regulate letting agents. Private tenants should never face the prospect of eviction simply for raising concerns about poor quality housing."
Mr Harvie, who is contesting the Glasgow Kelvin seat, said: "Scotland can provide affordable homes for all and Scottish Greens will keep up the pressure to make it happen.
"We need to build more homes and our proposals for taxing derelict land would generate hundreds of millions of pounds to invest in that, but we also need to respond to the huge growth we've seen in the private rented sector to bring it back to being an affordable option."