What happens in a mountain rescue and why the sudden rise in incidents?
After a tragic week, questions have been asked about the safety of climbers.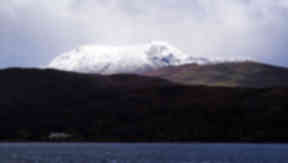 Scotland is renowned around the world for its hills, mountains and stunning views, with its breathtaking landscape often what attracts tourists to the country.
But for some it comes at a price. Recent incidents on Ben Nevis, Lochaber, and in Dumfries and Galloway have led to questions being raised over the safety of hillwalkers and mountain climbers, along with the challenges facing mountain rescue teams as the number of incidents increase.
A Canadian woman and her partner from West Yorkshire remain missing on Britain's highest mountain, while one of two climbers who was rescued from an avalanche in the Highlands has died. The second is still in a serious condition. In Durisdeer, Dumfries and Galloway, a 64-year-old man survived but two of his friends died.
Why a sudden increase in rescues?
It could simply come down to more people on Scotland's hills and mountains, increasing the numbers requiring assistance.
Roger Wild, Mountaineering Council of Scotland safety officer, writes: "Many hill folk hold the view there is no such thing as winter hillwalking and all trips to the Scottish hills during the winter months are no less than winter mountaineering.
"The point is well made and most people would agree that battling with blizzard conditions in the Cairngorms or traversing an ice-clad ridge in the Mamores requires the full range of winter equipment and skills.
"But there are also those days when winter conditions are not present and to simply describe every adventure which is undertaken between October and May as 'mountaineering' is at best confusing and at worst may turn people away from making sound decisions when winter conditions do prevail. The devil, as they say, lies in the detail."
In research published by sportscotland in 2007 it was revealed: "February and August show a relatively high number of accidents, possibly reflecting the number of participants at these times (to engage in winter mountaineering and summer hill walking respectively)".
The study, Scottish Mountaineering Incidents (1996–2005), said "over the ten-year period the proportion of hillwalking incidents has increased and the proportion of climbing incidents has decreased" while "52% of all those rescued do not live in Scotland".
What can happen to hillwalkers?
Sportscotland also found: "Of those who are injured, limb injuries are the most common followed by fatal injuries, multiple injuries and medical problems" with navigation "the most commonly cited cause of all incidents (23%), closely followed by bad planning (18%) and inadequate equipment (11%)".
It can come down to something as simple as a slip, trip or fall, with climbers or groups of climbers potentially being thrown off course and making it more difficult for mountain rescue teams dealing with the problems triggered by poor navigation or bad planning.
How many mountain rescue teams are there in Scotland?
There are 24 mountain rescue teams across Scotland and two search-and-rescue dog associations, which are organised by Scottish Mountain Rescue and operated by more than 1000 volunteers.
These teams are spread all over the country and are funded through charitable donations as well as support from local and national businesses.
Scottish Mountain Rescue also facilitates grants from both the UK and Scottish Governments which is divided between the teams.
In addition, there is a cave rescue team, three police teams and one team from the Royal Air Force. Each team in turn works with the Scottish Ambulance Service as well as other emergency services when a need arises.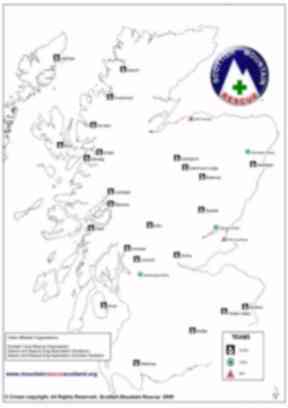 What happens on a mountain rescue?
Andy Rockall, of Scottish Mountain Rescue, told STV: "Each rescue team may have their own different process but generically the police start by calling the team leader who will then call people who can assist.
"Depending on the time of day this can be a text because everyone has a mobile phone on them but not everybody is awake at 2am waiting on a text so it can turn into a phone cascade.
"Once a team is contacted they will gather at an arranged point, most often the team base but depending on geography of where they are and where the incident is it might not be best to meet at the base and it can take quite some time.
"The Assynt team could be anywhere between Ullapool and Thurso and face a two-hour journey time whereas in the Cairngorms the volunteers may only be a mile or two away from the base. The Galloway team can also be quite dispersed.
"It could be the whole team called out or a small number depending on the incident and who is available but straight away there is a bit of hanging around, a period of time where we need to wait and make sure we have the correct information before proceeding.
"The team leader will make the decisions with deployment and whether it will need an aircraft or road vehicle but that also depends on the incident and availability.
"When it comes to finding people or casualties, the climbers themselves may know the name of the route they are walking on and that can help the teams out.
"The volunteers will have knowledge of the paths and can instantly locate where they are. Other times people can get lost and in those instances it can take quite some time to find them.
"If we're still in contact with them we can ask where they started from and the destination so we can try and work it out from that but if we don't have communication then it is just guesswork.
"We have lots of experience in the teams so even something as simple as a climber saying they crossed a fence on their route means we can follow that to help potentially find them.
"When we have contact with them we use software called Sarloc: Search and Rescue Location. Teams can text the people on the hill and the smartphone links to the software and gives our team computer a grid reference. All teams use it effectively and the software has definitely helped us save many lives.
"Once we find whoever has made the call it depends on whether they are injured, how cold they are and the availability of more aircraft as previously mentioned."
Is there a cost to running these volunteer teams?
Andy added: "The cost is secondary. If someone is on a mountain and they need rescued, we go and rescue them. Nobody counts the cost of ambulances in RTCs.
"Generally speaking though, it takes £1.3m to £1.5m a year. One third of that is through public funding and the other two-thirds are done through our own fundraising and donations.
"There's also the cost for each of the team members. With the Lochaber guys spending a lot of time over the past few days there, their employers have to be open and let them do what they volunteer to do. I have a partner, I have a social life, I have a job but very often you have to answer the call.
"It's not uncommon to have to walk away from a family meal, a theatre show or anything. Part of the package we sign up to, though not in the same way as like the military, is we accept these calls as volunteers and we are able to help out. But we could easily not do it. It's each and every person's prerogative to do something."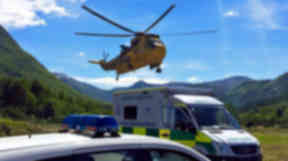 How does the weather affect hillwalkers, mountain climbers and the rescue teams?
STV weather presenter Sean Batty said: "Mountain weather can change very quickly and can be drastically different to the conditions found at sea level.
"For example, on a day with sunshine and showers, while most of us at low levels just see a pretty standard day on the mountains these showers may be falling as snow, bring gusty winds, a significant wind chill and blizzard-like conditions.
"These sorts of days can catch people by surprise as the weather closes in very quickly. With reduced visibility and strong winds it would be very easy to get lost and detached from a group.
"Thursday was a prime example of this with sunshine and showers in the west. The visibility was going up and down in the passing showers across the west Highlands, which fell as snow and hail on the mountains.
"At the top of Ben Nevis the temperature was around -5C with winds gusting over 30mph in showers making it feel more like -13C.
"This is why it is so important that hillwalkers check the latest mountain forecasts and not just go by how things are at home. Walkers should also always tell someone where they are going and their expected ascent and descent route."
What about this weekend's weather?
Sean added: "It is definitely not a weekend for heading into the mountains, especially in the west, with wild conditions expected.
"Heavy sleet, snow and hail showers will drive through during Saturday and Sunday along with strong winds giving blizzard-like conditions.
"Accumulations of up to 25cm are possible on the mountains around Easter Ross, Lochaber, Glencoe and on the mountains south of Dundonnell during the weekend.
"On the mountains in these areas winds will be around 40mph with gusts in excess of 60mph in passing showers and with temperatures well below freezing there will be a wind chill close to -20C."