Fewer teenage girls start smoking since ban, study suggests
Researchers examined smoking prevalence among 13 and 15-year-old boys and girls.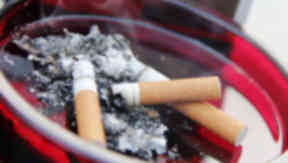 Smoking bans across the UK might have reduced the number of teenage girls who take up smoking, new research suggests.
Researchers from the University of Glasgow, the Welsh Government and the University of Stirling examined smoking prevalence among 13 and 15-year-old boys and girls from all four countries of the UK.
The results noted there was a reduction in regular smoking following the ban, but it was only statistically significant for 15-year-old girls.
In this group, implementation of smoke-free legislation was associated with a reduction in regular smoking by 4.3%, the authors said. They also found that the prevalence of regular smoking fell by an additional 1.5% every year after the ban was introduced among girls this age.
"The results demonstrate a fairly big change in the number of young people starting smoking - particularly in girls," said Dr Vittal Katikireddi, lead author of the paper and public health lecturer at the University of Glasgow's Social and Public Health Sciences Unit.
But the authors did caution that their findings did not prove a causal link between the ban and the reduction in smoking.
They added: "Disentangling causality may be particularly problematic since smoke-free legislation could have indirectly contributed to the implementation of other interventions by encouraging awareness and debate about tobacco control amongst policymakers and the general public which, in turn, produced a facilitative environment for tobacco control."
Sheila Duffy, chief executive of Ash Scotland, said: "Scotland's smoke-free legislation was designed to protect people from the harmful effects of tobacco smoke in indoor public places. It has been very successful at doing that.
"This research goes further, suggesting that as well as protecting people from breathing tobacco smoke, the legislation may also have led to fewer young people taking up smoking. If so, it is a welcome additional benefit."
Simon Clark, director of the smokers' group Forest, said: "Smoking rates among children were in decline long before smoking was banned in pubs, clubs and offices.
"Teenagers are well educated about the health risks of smoking and this, more than anything, is the principal reason for the long-term decline in the number of children who smoke.
"Since the smoking ban was introduced we've had graphic health warnings, a tobacco display ban, a ban on cigarette vending machines and further increases in tobacco taxation. To suggest that smoking bans have been a major factor in cutting childhood smoking rates is an act of faith, not a statement of fact."