Ashes to ashes: How our relationship with smoking has changed in a decade
Recent research shows teenage girls are less likely to smoke - but what else has changed?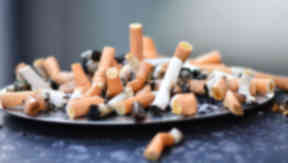 If the Scottish Parliament has its way, cigarettes will return to the proverbial ashes by 2034.
Gone are the days when Scots could enjoy a nicotine-saturated puff while ordering a pint, placing their bets or on sitting on the top floor of a double decker bus.
It's no secret the cancer-causing sticks have been increasingly stigmatised since Scotland became the first country in the UK to implement a nationwide ban in public places.
Now research from Scottish universities show fewer teenage girls (albeit marginal at 4.3%) are taking up smoking - although the authors warned the findings did not prove a causal link between the ban and the reduction.
Here's a timeline of events.
2006: Ban on smoking in public places.
2010: Ban on sale of tobacco products from automatic vending machines, although implementation was deferred until 2013.
2013: Ban on the display of tobacco and smoking related products and their prices in shops.
2015: Scottish Parliament backs ban on smoking in cars with children.
2034: Scottish Government aims to make Scotland completely smoke-free.
But even now, smoking kills around 13,500 Scots each year (around one in five) and is responsible for around 33,500 hospital admissions.
The habit costs the NHS in Scotland around £400m to treat smoking-related illness.
So what else has changed?
Vaping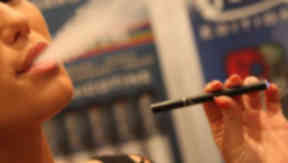 In May 2015 an estimated 2.6m adults in the UK used electronic cigarettes - a battery powered vaporiser loaded with liquid chemicals.
Users range from Leonardo DiCaprio and Katy Perry to UKIP's Nigel Farage.
Initially an aid to help nicotine addicts kick smoking, the jury is still out on their effectiveness.
In fact, recent research from the University of California indicated that using vaporisers reduced smokers' chances of giving up long-term.
But some users find the tool a great help - there's even an app for tracking your usage.
'Vaping', in any case, has attracted some of the stigma of smoking tobacco - at one stage it was banned from outside hospitals by the Greater Glasgow and Clyde.
The health board later reconsidered after changing its policy.
Cultural impact
A quick glance on Pinterest will tell you that in the face of volumes of research and grotesque depictions of mucus-laden lungs, smoking continues to be glamorised in the media.
Your average TV detective - even those as innocuous as BBC's Sherlock - rarely endure more than 40 minutes without a sneaky puff.
But earlier this year, the World Health Organisation made a move to tackle the on-screen lifespan of a cigarette, advising films with scenes that involved smoking should be given an adult rating
Conversely, anti-smoking ads have become increasingly more graphic.
A recent short film starring Indian actress Sunny Leone sees a man on his death bed given a rather racy final wish. He is paid a visit by the beautiful Leone, but dies in her arms a mere moment before his, er, happy ending.
The video titled #11minutes - campaigning that each cigarette takes 11 minutes from the average lifespan - went viral after appearing on YouTube this week.
Quitting
At a time smokers face increased pressure to quit, some have found more questions than answers in an age saturated with information.
In 2013 the Nursing Times reported that smoking cessation reduced stress and anxiety, while other researchers said cessation pills were no more effective than nicotine patches three years later.
Other studies have been advocates for alternative methods for quitting, where kicking the habit was effective in 25% of cases.
Confused yet?
And what about the news that pregnant women are more likely to quit if they were offered shopping vouchers?
However, Scots have managed to kick the habit, it deserved to be commended.
In an interview with Newsbeat, Dr David James tackled some of the myths that still exist around smoking during pregnancy.
His bottom line advice: "Giving up at any point is a real achievement. We know that babies who are in smoky houses have got a far higher instance of respiratory problems like wheeze and asthma and all those infections like glue ear.
"It's one of the most addictive substances that there is. What we need to be focusing on is how do we give support to those people."