Children 'exposed to too many adverts for alcohol'
Campaigners say marketing reduces the age at which young people start to drink.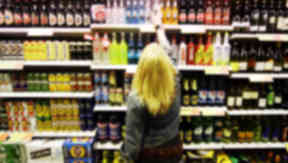 Campaigners are calling on Scottish politicians to do more to prevent children from seeing alcohol adverts.
Candidates from all parties for May's Holyrood election are being asked to back tougher action on the advertising of alcoholic drinks in the next term of the Parliament.
The call has been made by a coalition including the British Medical Association (BMA) Scotland, Scottish Health Action on Alcohol Problems (SHAAP), Alcohol Focus Scotland and Scottish Families Affected by Alcohol and Drugs.
They point to research showing that exposure to alcohol marketing reduces the age at which young people start to drink, increases the likelihood that they will drink and increases the amount of alcohol they will consume once they have started to drink.
Alison Douglas, chief executive of Alcohol Focus Scotland, said: "Everyone agrees that children shouldn't see alcohol advertising but they do.
"Watching sport on TV, waiting for the school bus, at the cinema or using social media - all of these activities are exposing our children to positive messages from alcohol companies.
Ms Douglas claimed exposing children to alcohol marketing was "morally wrong", and said there was "clear evidence that exposure to alcohol marketing leads children to start drinking at an earlier age and to drink more".
She added: "The current codes are failing to protect children. It's time to take effective action in Scotland and ensure our children can play, learn and socialise in places that are free from alcohol marketing."
BMA Scotland chair Dr Peter Bennie added: "The presence of alcohol branding is currently ever-present in the lives of children in Scotland. There can be few children in Scotland who are not exposed to some form of alcohol advertising or branding on an almost daily basis.
"The next parliamentary term must see concrete action to protect children from alcohol marketing and I hope all candidates at this election will sign up to endorse that."