Free childcare provision not flexible enough, report finds
Councils have 'generally succeeded' but uptake is 'extremely varied' across country.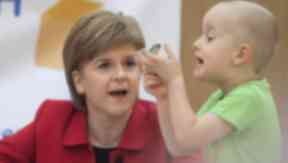 The provision of childcare by councils needs to become more flexible to maximise uptake, a report has found.
The Care Inspectorate said local authorities have "generally succeeded" in providing increased levels of free childcare but rates of take-up are extremely varied across Scotland.
It is believed the variations come down to the level of flexibility and choice being offered to parents, with a "mismatch" between services offered and the practical needs of parents.
Access to free childcare for all three and four-year-olds, as well as around 27% of two-year-olds, was increased from 475 to 600 hours in 2014.
It was intended to generate a further £2.2bn of tax revenue from parents, particularly mothers, returning to work early.
The inflexibility of services rendered the scheme ineffective in some areas, however, with some councils offering childcare for periods as short as three hours at a time.
The inspectorate reported that between June 2014 and the end of October 2015, more than 2,500 new childcare places were created.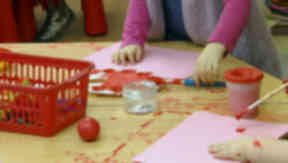 It found local authorities had generally succeeded in making the 600 hours of free provision available for all eligible children, which it said was a "significant achievement".
"Parents may choose to keep their existing childcare arrangements if the only way of accessing the 600-hour entitlement is disruptive for their child," the report said.
"Similarly, if the 600 hours are only available at some distance from home or the existing care arrangements, then parents might decide not to take up the place.
"For two-year-olds, local authorities should consider private nurseries, playgroups and childminders as potentially optimum placements for some individual children."
The Scottish Government harbours an ambition for the provision of 1,140 hours a year by 2020 for all three and four-year-olds, along with an increase in the number of eligible two-year-olds.
Karen Reid, chief executive of the Care Inspectorate, said: "We will continue to look at the impact of the changes on our inspections this year and report on what that has meant for children.
"We know that high quality early learning and childcare supports children to do well at school and helps reduce health and social inequalities across Scotland."
Liberal Democrat education spokesman Liam McArthur criticised the pace of progress, claiming his party's 1p tax hike would increase the availability of childcare services.
He said: "Everyone knows that there are issues with flexibility in provision for two-year-olds and that this is making it hugely challenging for parents to access the free care that they have been promised.
"It is no good offering support to families if it is impossible for them to take it up because of limited providers or time slots.
"Our penny for education policy would allow for big new investment in early years support and ensure that the money is there to support flexible ways of delivering free early learning and childcare for two-year-olds."