Drunk man challenged lamppost to fight
Drunken David Robinson turned his anger on streetlights in Perth after passers-by refused to fight him.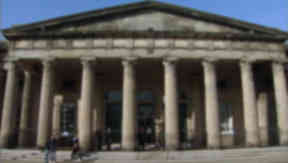 A 22-year-old man challenged a lamppost to fight after he was ignored by passers-by in the street, a court heard on Wednesday.
Drunken David Robinson turned on the innocent streetlight after a number of walkers ignored his pleas to engage him in a stand-up fight.
As police officers watched, Robinson directed his anger at the lamppost and shouted at it to "come and have a go."
The bizarre incident was recounted at Perth Sheriff Court, where Robinson admitted breaching the peace and was ordered to carry out 80 hours community service.
The court was told that the police were on patrol in the early hours of the morning when they spotted Robinson shouting and swearing at passers-by. He challenged a passing stranger to a fight and it was clear to the officers as they got closer that Robinson was heavily under the influence of alcohol.
Fiscal depute Stuart Richardson told the court: "He must have been very drunk because when he ran out of passers-by he began to shout at the lampposts, similarly challenging them to 'have a go'."
Robinson - who was stumbling around unsteadily - continued by berating the officers and asking them to fight before he was arrested and detained.
Robinson, of Corlundy Crescent, Crieff, admitted conducting himself in a disorderly manner and breaching the peace in Perth on 8 March this year.