Dog microchipping: What you need to know about the new law
All dog owners will have to make sure their pets are microchipped by Wednesday.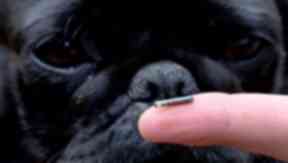 All dog owners in Scotland will have to ensure their pets are microchipped, as a law making the tag compulsory comes into force.
But hundreds of thousands of dog owners could be fined for failing to microchip their pets in time, it has been revealed.
So what is the new law, and how can you avoid being landed with a fine of up to £500?
What is the new law?
The legislation, which comes into force on Wednesday, will require dog owners to make sure their pet is fitted with a microchip by the time it is eight weeks old.

All dogs will still need to wear a collar and tag that states the name and address of the owner when in a public place.

Ministers say the new legislation is aimed at cracking down on the dog black market, said to be worth tens of thousands of pounds.


It will also hope to tackle the problem of strays and lost dogs, by making it easier to reunite lost dogs with their owners.
How does the chip work?
When a dog is microchipped, a tiny chip about the size of a grain of rice is inserted under the loose skin on the back of its neck.

The chip gives each dog a unique 15-digit code.

If a dog is lost or gets stolen and is picked up by a local authority or a shelter, the microchip can be scanned and matched to contact details stored on a database.
How can I get my dog microchipped?
The procedure can be done easily and quickly and usually costs around £20 to £30.

Charities such as the Dogs Trust, some local councils and some vets will also microchip dogs for free.

Over one million dogs have not yet been microchipped, more than one in eight dogs out of the UK's estimated canine population.

Owners must make sure the microchip is updated if their contact details change.

If you are buying a dog or puppy you should ask for proof a microchip has been fitted before buying a new pet.

What if my dog is not chipped?
If your dog is still not chipped after April 6, you will be breaking the law.

The microchip must have been implanted in your dog and registered on an approved database.

Dog owners must make sure their pet is fitted with a microchip by the time it is eight weeks old.

If your pet is found without one, you will have 21 days to have a chip implanted.

Those who fail to get the pet chipped could face a fine of up to £500.