'Return to prosperity' a key part of G20 talks
Chancellor Alistair Darling insists that economic recovery remains a 'work in progress' ahead of St Andrews summit.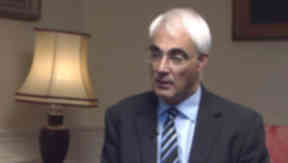 A return to financial prosperity over the next ten years will be a large feature of talks between the world's leading economies, Chancellor Alistair Darling said on Friday.
He insisted that recovery remains a "work in progress" and called for an end to the "old ways" of thinking ahead of the G20 meeting of finance ministers in St Andrews.
Mr Darling stressed the importance of international co-operation ahead of the talks during a visit to wave energy firm Pelamis in Edinburgh.
He said: "If you look at the last year, countries have acted together because they could see it was in their own self-interest to act together to put money into the economy. The key challenge for all of us now is how do we get growth for the next decade?
"How do we ensure the next decade is one of growth, one of jobs, one of increasing prosperity and that needs international co-operation?
"We've shown what we can do in the last year. The key for us this weekend and beyond is to show what we can do for the next 10."
Mr Darling stressed the need for all countries to get borrowing down, but he said this would be a "gradual" process.
He added: "There's a lot more confidence than there was six months ago, but we're not out of the woods yet.
"I think one of the biggest risks we have is for people, for governments, to get into thinking that somehow the job's done, that we can all carry on as normal. We can't - we've got to escape from the old ways of thinking.
"That means we've got to be prepared to work together and crucially we've got to take action now to tackle the very urgent problem both of climate change and also of securing sustainable long-term growth."
A group of about a dozen students began to gather in the historic town centre in St Andrews this morning to voice their concerns over the way world leaders were handling the economy and tackling climate change.
Some of the demonstrators held banners with slogans including "Nature doesn't do bail-outs" and "IMF is the problem not the solution".
Colleen Roberts, 21, an international relations student at St Andrews University, said: "Our representative democracy is failing us and we need to take action. Our politicians should see what people are feeling."