Up to 220 jobs to go as Muller reveals plan to shut plants
Milk plants in Aberdeen and East Kilbride are expected to be closed by the dairy giant.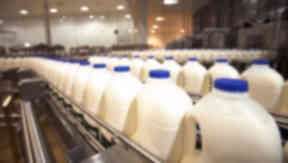 Dairy giant Muller has revealed plans to close milk plants in Aberdeen and East Kilbride at the cost of up to 220 jobs.
The announcement on Tuesday was described as a "devastating blow" to staff by the Usdaw union.
Muller said the Aberdeen plant will shut "as soon as reasonably practical" while East Kilbride will stay open for up to 24 months.
Meanwhile, the company intends to invest £15m in its dairy at Bellshill in North Lanarkshire.
Usdaw national officer Daniel Adams said: "After extensive local consultation with the business in an attempt to secure jobs, today's news is a devastating blow for the loyal and hardworking staff in Aberdeen and East Kilbride.
"Usdaw remains concerned at the potentially premature nature of the decision regarding the East Kilbride site given that the company do not anticipate it closing for up to another 24 months.
"Usdaw has secured a commitment from the business that a formal dialogue will continue at East Kilbride during this time as we believe there remain a number of issues where further discussion is required."
Forty-three farmers who supply Muller's Aberdeen dairy have been offered the opportunity to continue selling milk to Muller if they pay charge of 1.75 pence per litre to cover the cost of transporting it to Bellshill.
Muller Milk and Ingredients managing director Andrew McInnes added: "We recognise that this change will affect our colleagues at both sites and farmers in the North East but this announcement is a key step towards building a sustainable, diverse and future focused dairy business in Scotland and the UK
"Unfortunately the status quo was not sustainable within our Scottish dairy network, with both Aberdeen and East Kilbride dairies operating well-below capacity. By investing in Bellshill we will be better able to optimise the value in the milk we buy from dairy farmers."