Debate under way over Scottish National Anthem
Commonwealth Games Scotland begins process to select anthem for games in Delhi in 2010.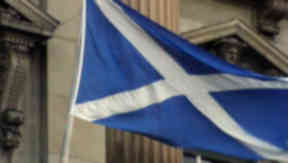 A debate has been sparked over what song should be used as Scotland's national anthem. The country currently has no official anthem, and Commonwealth Games Scotland has begun a process to decide what song should be used for athletes representing the country at the games in Delhi in 2010.
At the Commonwealth Games Scotland Awards Dinner on Saturday November 14, guests will be asked to help decide on the anthem from a shortlist of four, and prospective team members will determine which of the two finalists will  be used.
The lack of a single anthem used across all sports has led to different tunes being used over the years.
Up until 1958, Burns' Scots Wha Hae was used to mark the occasions when Scots athletes were on the medal podium. Since then Scotland the Brave has been the preferred anthem for the Commonwealth team.  
The organisation has now short listed four songs, Scotland the Brave, Flower of Scotland, Highland Cathedral and Loch Lomond.
Commonwealth Games Scotland Chairman, Michael Cavanagh said: "At the Awards Dinner on Saturday night we will give our wider stakeholders the opportunity to have an input into this process. Students from the Royal Scottish Academy of Arts Music and Drama will perform a shortlist of four options and at the end of the evening, guests will be asked to cast their vote.
"The most popular two anthems will then be presented to our prospective Delhi 2010 team members at their Team Camp in January, where they will make the final choice of anthem to be played at the Games."
"Hopefully, by the time we reach the 2014 Commonwealth Games in Glasgow there will be an official anthem that is nationally recognised and endorsed through our Parliament and one that the whole of Scotland can unite behind on what will be a fabulous and memorable occasion for all Scots."
The Scottish Government has not yet determined which song should be used as the country's official national anthem.
Let us know what you think about the National Anthem proposals. Vote in our poll and post your comments >