Trump survey against compulsory evictions
74% of YouGov poll in opposition to compulsory purchase orders for family homes near Trump's billion pound golf development.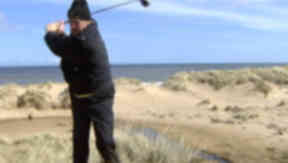 Campaigners against Donald Trump's proposed billion pound golf development in Aberdeenshire claim a new survey shows overwhelming opposition to the use of compulsory purchase orders.
Protest group Tripping Up Trump and the Scottish Green Party commissioned a YouGov poll asking more than 1,000 people whether families should be evicted from their homes near Balmedie to make way for the project.
According to the findings, 74% of those questioned were against the idea. Thirteen percent were in support.
The Trump organisation has insisted it has all the land it needs for the proposed golf, housing and hotel development, however, it has since made it clear that it would like to use further plots near the Menie Estate to enhance the project.
The owners of some of the homes on Trump's wish-list have made it clear they have no intention of selling, which raises the issue of compulsory purchase orders.
Last month, Donald Trump Junior insisted compulsory purchase orders were a last resort, but he refused to rule them out.