'Green ice' plan for curling academy
Proposed national curling centre in Kinross would make ice directly from rain that falls on the building.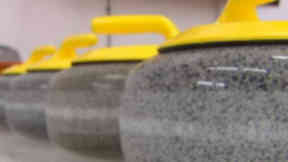 A new national curling centre is set to capitalise on Scotland's miserable weather - by making ice for the rinks directly from the rain which falls on the building.
The proposed National Curling Academy will take advantage of the our wet climate by catching rainwater on its roof and converting it to ice.
The radical plan aims to "flood" the floor of the building with rainwater which will then be frozen and used as the covering for the six rinks which are planned.
It is believed to be the first time the technique has been used in the UK and is a key part of the showpiece arena's plan to be environmentally friendly.
Perth and Kinross Council's Development Quality Manager Nick Brian said the proposal was part of a plan to create a centre which is ecologically sound.
Mr Brian said: "Sustainability is a key consideration and the building will make use of its large roof to collect rainwater for use in the flooding of the rinks."
The National Curling Academy is planned for Kinross and will feature a six rink ice pad, changing facilities, gym, bar, cafe and offices, as well as the showpiece Scottish Curling Museum.
Despite the planned building falling outwith local planning guidelines, Mr Brian has recommended that councillors approve it as it would benefit the area.
Bid leader Jamie Montgomery said: "The local area has long had a strong curling tradition centred on Loch Leven and Kinross Curling Club is believed to be one of the oldest, if not the oldest, club in the world."
Colin Grahamslaw of the Royal Caledonian Curling Club said: "This building represents a vital part in the future strategy of the sport of curling in Scotland.
"By providing a highly-controllable ice environment, our coaches will be able to replicate the conditions our top athletes will face as they travel around the world, competing at world championships and Olympic Games."
A club spokesman said the rainwater would be filtered to remove debris before being frozen to create the initial surface of the rink. Droplets of mineralised water would then be sprayed on top to create the beading effect required for accurate curling.
The plan will be considered by the Development Control Committee at Perth and Kinross Council later this week.