Mother of 'webcam blackmail plot' victim warns parents
The Scottish girl was allegedly targeted by Dutch national Aydin Coban.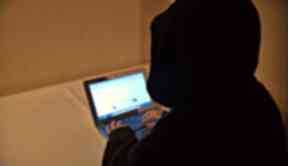 The mother of a Scottish girl who was targeted by in an alleged online blackmail plot has warned other parents to learn lessons from the case.
The woman's daughter became mentally ill after the stranger sent nude pictures of her to her school.
She was one of five Scots alleged to fallen victim to Aydin Coban, a Dutchman who is on trial in Amsterdam charged with targeting 34 girls in six countries, and five adult men in England and Australia.
The girl had posted naked images of herself online under a false name. Coban is accused of trying to extort her by threatening to send the images to her friends, family and school unless she provided more.
She told her mother and father, who called in police. Coban is accused of later sending naked images of the girl to her head teacher.
"When we first told the police, they said the chances of catching who was doing it were extremely, extremely slim," said her mother.
"Then later on when they told us they knew who was doing it, and it was worldwide, there was some relief there because he'd been caught but there was also the worry about the effect it was going to have on my daughter.
"It's hard for everybody. It doesn't just affect the victim it affects the whole family in so many ways."
Coban, 38, also faces charges over the blackmailing of Amanda Todd, a 15-year-old Canadian who took her own life in 2012.
Amanda described being blackmailed and bullied in a video she posted online before she died.
"I watched her video and I cried at her video," said the Scottish mother.
"It was devastating. The thoughts that were running through my head - that could have been my daughter.
"The only advice that I can really think of is that you really do need to be a lot more vigilant than you think you're being. Check what your kids are doing online.
"People have probably heard that a hundred times. I thought I was being very vigilant but obviously I wasn't being vigilant enough."
Police urge parents and teenagers to report abuse via the Think U Know website run by the Child Exploitation and Online Protection Centre.
Coban has denied being the blackmailer. The three Dutch judges who heard the case will announce their verdict later this month.
Prosecutors have requested the maximum possible sentence of ten years and eight months.
Download: The STV News app is Scotland's favourite and is available for iPhone from the App store and for Android from Google Play. Download it today and continue to enjoy STV News wherever you are.