Warning as snow, hail and lightning to batter Scotland
Met Office has issued yellow 'be aware' warnings for most of the country.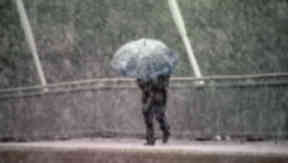 A weather warning has been issued with snow, hail and lightning set to batter Scotland.
The Arctic blast is predicted to hit on Monday night and continue into Tuesday morning.
The Met Office has issued yellow "be aware" warnings for the west coast, central belt, Highlands and islands and Dumfries and Galloway.
March 20, the day the warnings were issued, marked the vernal equinox, the beginning of spring in the northern hemisphere.
STV weatherman Sean Batty said the wintry weather could bring more than two inches (5cm) of snow on higher ground.
He said: "On Monday, a deep, low pressure centre drifted across the far north of the country bringing strong and gusty winds and has helped to drag cold air in from the Arctic.
"Throughout the day showers in the west have been turning increasingly to snow over high ground.
"On Monday night the freezing level will drop sufficiently to allow snow to fall to low levels in the heavier showers.
"While accumulations will be mainly over high ground, where there could be around 5cm of snow by Tuesday morning, slight accumulations are possible to lower levels over inland western parts.
"The wintry showers will continue through most of Tuesday across central and western parts of the country, although they will tend to turn back to rain at low levels, but accumulations will continue on the hills."
Some parts of the Highlands could see temperatures drop to as low as -10C in the cold snap.
The Met Office warned motorists black ice was likely to form on untreated surfaces and said transport disruption should be expected. It also warned "lightning may be an additional hazard" .
Weatherman Sean said snowfall was not that unusual in March.
He added: "Although spring snow and cold weather seems to surprise a lot of people each year, it's actually fairly common.
"In the month of March there are on average about three days with falling snow in the central belt and around eight in the Highlands.
"Those living on Arran or Kintyre will remember the awful snow that fell in late March 2013 which cut off villages and left thousands of homes without power.
"Snowfall in May is fairly rare away from the Highlands, and June snowfall even more so, although it has happened."