Glasgow woman facing deportation wins 11th-hour reprieve
Chennan Fei released from Yarl's Wood detention centre but right to remain uncertain.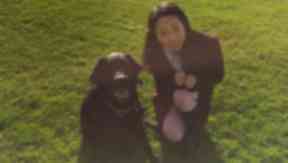 A Glasgow woman facing deportation to China after being detained by the Home Office is now on her way back to Scotland.
Chennan Fei, 28, was to be flown to China at 8pm on Wednesday but won an 11th-hour reprieve.
She is now travelling by train back to Glasgow after being released from the Yarl's Wood immigration removal centre in Bedfordshire.
She was transferred there from the Dungavel detention centre in South Lanarkshire after being detained on March 23.
Ms Fei, from Hamiltonhill, moved to Scotland with her parents when she was 13, went to school here and graduated in accounting from Edinburgh University.
She faced deportation to China after her parents overstayed their visa, despite her no longer having a relationship with them.
Ms Fei had been volunteering with community groups and refugee support centres, using her accountancy degree, but she has been told to halt this. Campaigners claim this is an attempt to "isolate" her.
Annette Christie, who launched a petition in support of Ms Fei, said: "Chennan got a new lawyer and that has gone a long way to halting the deportation process.
"We got the news very late last night that it was been halted, but the case is still very much ongoing and it's still up in the air what will happen to her.
"She was booked on a flight to Beijing for tonight but luckily we have managed to halt it. She is getting a train this afternoon and should be back in Glasgow this evening."
She added: "Chennan is a very bright and upstanding young woman who should have a wonderful future ahead of her.
"But I now feel they (the Home Office) are trying to isolate her by restricting her from volunteering."
Her lawyers are seeking a judicial review of the decision to deport her, but a date has not yet been set.
Friends and campaigners have urged the Home Office to reconsider.
Glasgow girl Roza Shalih, who campaigned against deportation after a teenage school friend was detained in a dawn raid, has spoken in support of Ms Fei.
She said: "I feel it's disgusting that they want to deport Chennan Fei.
"She has been in this country since the age of 13 years old, has lived in Scotland and is well integrated into the community.
"I do not understand how the Home Office has come to the conclusion to deport a person that has lived most of her life in Scotland.
"This breaches her rights as she can clearly claim indefinite leave to remain on her 10 years residency in this country."
Ms Shalih said Ms Fei had a right, under the Human Rights Convention, to a private life and to live in peace with her boyfriend.
She added: "I hope the Home Office reconsider their decision and terminate Chennan's deportation."
Patrick Garret, speaking on behalf of the Edinburgh University Students' Association, said: "We believe that Chennan has the right to a family life in Scotland after 15 years of living here, and is being removed from the country, from her community ties, and from her life with her partner.
"We ask that people please sign the online petition against the deportation to China."
The petition "Help Chennan Fei stay in Scotland" has gained more than 2000 supporters since going live on Change.org last night.
In an earlier statement from Yarl's Wood, Ms Fei said: "I am trapped. My mind and my body wants to be liberated... I just hope I don't have to stay here too long. I want to come home to Scotland."
Ms Fei's boyfriend, Duncan Harkness, said he had been planning to propose to her when he returned from a holiday in America. He was abroad when Chennan was suddenly detained.
He said: "I was devastated to hear of Chennan's detention and potential removal from the UK.
"The past few days have been an ongoing nightmare as I'm stuck in the USA on pre-planned holiday.
"I cannot face the prospect of not only losing my girlfriend, but potentially being robbed of an opportunity to say goodbye.
"We enjoy a strong, loving relationship with support from our friends and family. Our future plans were, upon returning from my vacation, for us to move in together and, though I didn't want her to find out this way, for me to propose shortly thereafter."
A Home Office spokeswoman said: "The UK has a proud history of granting asylum to those who need our protection and every case is assessed on its individual merits and in line with immigration rules.
"If someone is found not to need our protection we expect them to leave the UK.
"We do not routinely comment on individual cases."
Download: The STV News app is Scotland's favourite and is available for iPhone from the App store and for Android from Google Play. Download it today and continue to enjoy STV News wherever you are.