Cyclists across Scotland turn out to demand better deal
Cyclists in Edinburgh, Aberdeen and Inverness took part in the event.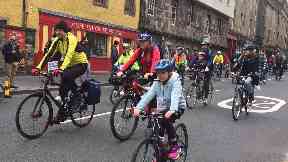 Hundreds of cyclists took the streets in three cities to demand better conditions for cyclists.
Mass cycle rides were held in Edinburgh, Aberdeen and Inverness as the sixth annual Pedal on Parliament (POP) event was held.
Thousands flocked to the Meadows in Edinburgh before cycling down the Royal Mile to the Scottish Parliament.
Led by the Talking Tandems, who included a visually impaired rider, the grassroots protest attracted cyclists of all ages including parents with their children and marchers on foot.
In Aberdeen, 100 cyclists including many children rode out bringing a similar call for investment and safer roads to the council headquarters there.
Around 120 are estimated to have turned out for the event in Inverness.
Speaking outside the Scottish Parliament MSP Alison Johnson of the Scottish Greens said: "If we invest properly in cycling we can cut congestion and air pollution and tackle obesity and children can cycle to school.
"If you look at what happens in the Netherlands children have independence - and where people can cycle easily it benefits those on low incomes the most. This is not a niche activity, it benefits us all."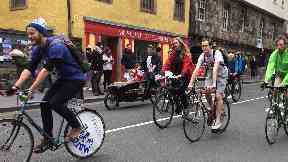 Alex Cole-Hamilton, of the Scottish Liberal Democrats, said: "Edinburgh has two of the most polluted streets in the country in my constituency and protests like this send a message to politicians that this has to be at the top of the political agenda.
"This should be a cross party issue, for Scotland in 2017 is still the sick man of Europe and we have to change that."
Mike Young, of the Talking Tandems, said: "Tandems enable me to get out and experience Scotland despite being blind.
"We're here today to remind people that cycling takes many different forms but getting out on a tandem or an adaptive bike takes extra thought and things like chicanes can be a real barrier to non-standard bikes."
Louise McLeary added: "I'm also a blind cyclist and I cycle to keep fit - when I first started I could barely go a mile and now I can cycle 60 to 65 miles in a day and have even cycled in a velodrome. "
Another event is scheduled on Sunday in Glasgow where the Scottish Minister of Transport, Humza Yousaf, is expected to speak.
Organiser David Brennan urged cyclists to "do the double" and attend the first Pedal on Parliament in Glasgow on Sunday.
He said: "In its sixth year we've seen POP become a truly national movement, united behind safer streets for all.
"I want my children to grow up in a truly cycle-friendly Scotland and that's why we're taking our message right across the country."
Download: The STV News app is Scotland's favourite and is available for iPhone from the App store and for Android from Google Play. Download it today and continue to enjoy STV News wherever you are.