Clydesdale Bank sets date to launch plastic £10 note
The new banknote features Robert Burns and scenes from Edinburgh Old and New Towns.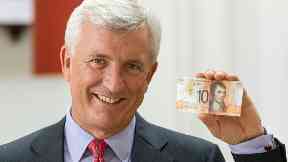 Clydesdale Bank has set the date for the launch of its new plastic £10 banknote.
The banknote, which features Robert Burns and scenes from Edinburgh Old and New Towns, will be available from September 21.
In March 2015, the bank released a £5 plastic banknote, becoming the first in Britain to do so.
Clydesdale says the new material has helped to reduce counterfeiting and is better for the environment.
The plastic £10 notes will be smaller than current versions and more durable.
On Friday, the bank said 45 million of the notes would be rolled out in September.
David Duffy, chief executive of the bank's owners CYBG, said: "I am proud to announce that our second polymer banknote will be available in our branches on the September 21, 2017.
"The introduction of our £5 polymer banknote has led to a reduction in counterfeit levels and had a positive impact on the environment, and we believe the £10 version will have a same effect.
"More durable and more secure than normal paper notes, the move towards polymer is an important milestone in our history of innovation."
He added: "We have been issuing banknotes since 1838 and it's just as vital as ever to ensure we are creating and developing currency that is fit for modern day use.
"It is also fitting that we are making this announcement on the 221st anniversary of the death of Robert Burns.
"We continue to celebrate his life and work by featuring him on our £10 currency."
Old paper notes will be able to be swapped for the new ones at any Clydesdale branch.