Drone danger warning after near-misses at Scots airports
The devices can smash plane windscreens and shatter helicopter rotors.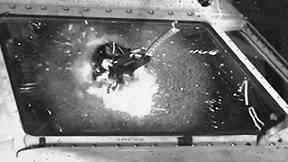 Drones can smash the windows of planes and shatter helicopter blades, it had been warned after a series of near-misses.
There have been at least four incidents in the last nine months where planes narrowly avoided drones at airports in Scotland.
They include a near-miss involving a Thomas Cook passenger jet carrying 200 people at Glasgow Airport.
The pilot was forced to take evasive action to avoid the drone, which missed the plane by around 70ft as it landed.
Pilots union Balpa say even low-speed collisions could be "catastrophic" following a new study which shows drones are capable of smashing through the windscreens of jets.
Balpa has urged the UK Government to create a register of drone pilots and called for the use of geofencing technology to prevent them being flown near airports.
General secretary Brian Strutton said: "Pilots have been warning about the rise in the number of cases of drones being flown irresponsibly close to aircraft and airports for some time.
"This report clearly shows that readily-available drones which can be flown by anyone can shatter or go straight through an aircraft windshield or shatter a helicopter rotor.
"Those impacts would have catastrophic consequences."
Mr Strutton added: "We are reassured that the matter is being taken seriously in the corridors of power."