Staff shortages 'create major challenges' within NHS
NHS staff are 'overworked, undervalued, under-resourced and underpaid'.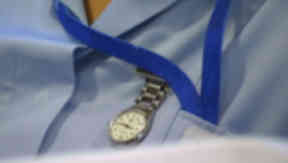 The doctor tasked with chairing a Labour study into NHS staffing says the issue is "undoubtedly" one of the biggest challenges the health service is facing.
Scottish Labour announced Dr Miles Mack, chairman of the Royal College of General Practitioners, is to head up its NHS and Social Care Workforce Commission.
The move was announced as Labour health spokesman Anas Sarwar claimed moral amongst workers in the NHS is at "rock bottom".
The establishment of the commission comes as the Scottish Government continues to come under pressure over vacancies within the NHS, with the Royal College of Nursing (RCN) warning in the June that there are "too few nurses".
The Government later announced an extra 2,600 training places for nurses and midwives will be created over the next four years.
But Mr Sarwar said a decade of the SNP in government in Edinburgh had resulted in "severe shortages", as he claimed NHS staff are "overworked, undervalued, under-resourced and underpaid".
Dr Mack said: "The workforce shortage within health and social care is undoubtedly one of the biggest challenges faced by the NHS as it responds to population changes across Scotland.
"This workforce commission is an opportunity to take a detailed look, with other independent stakeholders, at the situation as it is now and devise evidence-based recommendations for the future."
Labour stressed Dr Mack is not a member of the party, and said he will remain politically neutral while the group carries out its work.
Other commission members include RCN director Theresa Fyffe, Kim Hartley Keen of the Royal College of Speech and Language Therapists, June Andrews, professor of dementia studies, Dave Watson of the public services union Unison, and John Marr from the GMB trade union's Scottish Ambulance Service branch.
They will consider how best to determine the appropriate numbers of training places for health workers, and look to develop a strategy for attracting and retaining staff to the NHS.
The experts will also look at how changes to Scotland's population could impact on workforce requirements.
Mr Sarwar said: "Our commission will bring together professionals from across the NHS, representing different sectors, who will together examine the underlying causes for this staffing crisis and importantly develop a strategy and policies to address them."
Download: The STV News app is Scotland's favourite and is available for iPhone from the App store and for Android from Google Play. Download it today and continue to enjoy STV News wherever you are.