Universal credit roll-out should be halted, say Labour
People are being left up to six weeks without financial support.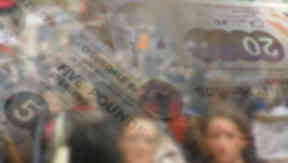 Scottish Labour has called for the roll-out of Universal Credit to be halted amid concerns that families are being pushed into poverty and debt.
The move follows a similar call from the Scottish Government earlier this year, with ministers warning of problems with the implementation of the new benefit.
The full service of Universal Credit, where people use an online account to manage their claim or apply for a benefit, is already operational in certain parts of the country and is due to be introduced in full by the end of next year.
It is aimed at bringing a number of welfare payments together into one social security payment, making the system easier to use.
However, Scottish ministers said people who are moved on to full service have to wait six weeks before receiving their first payment.
Labour said the delay is leaving people without vital support.
The party highlighted evidence from Citizens Advice Scotland indicating a rise in rent arrears, crisis grant issues and food bank use in some of the areas where Universal Credit has already been introduced.
The party's deputy leader, Alex Rowley, has written to Work and Pensions Secretary David Gauke and Scottish Conservative leader Ruth Davidson to challenge them to halt the roll-out.
He has also contacted every MP in the UK to seek support for a delay.
He said: "I have heard first-hand some of the issues around the roll-out of Universal Credit and there is a very real concern that the system is leaving many in poverty and debt.
"Universal Credit is supposed to make access to social security less complex and to further support people into work.
"This cannot be the case if it is leaving people without the vital support they need and drives some to food banks simply to survive.
"The six-week waiting period for payments at the start of the process is particularly concerning, resulting in people ending up with rent arrears and forcing them to rely on crisis grants and food banks for the very basic necessity of feeding themselves.
"The accelerated roll-out of Universal Credit must be halted until these problems can be resolved.
"If the system puts more people in poverty or debt, or even increases the risk of these, then it should not continue in that form."
A Department for Work and Pensions spokesman said: "We are rolling out Universal Credit in a gradual, safe and secure way, and the majority of people are managing their budgets well.
"The best way to help people improve their lives is to help them into work, and under Universal Credit people are moving into work faster and staying in work longer than under the old system.
"It's misleading to link crisis grants to delays as the Scottish Government's own figures show the vast majority of grants it issued were for other reasons.
"The Scottish Parliament now has significant welfare powers including flexibility over Universal Credit payments."