Scotland 'in top ten in Europe for palliative care'
Glasgow University researchers say results are encouraging but there is room for improvement.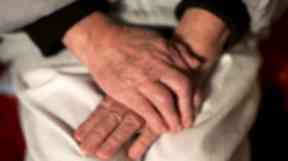 Scotland is among the top ten in Europe for palliative care, according to a new study.
Researchers at Glasgow University have compared the levels of end of life care in Scotland to the rest of Europe and the UK for the first time.
While the results were "encouraging", researchers said there was still room for improvement.
The study found Scotland has 23 specialist palliative care (SPC) inpatient units, 4.3 per one million of the population, 27 hospital support teams (five per million) and 38 home care teams (7.1 per million).
It placed Scotland fifth in the number of home care teams and seventh in the amount of hospital support teams and inpatient units per capita.
Glasgow University's Professor David Clark, one of the authors of the report, described the results as "encouraging".
He said: "Scotland is in the top ten EU countries for all three types of service - not many countries do as consistently well across the board.
"However, the level of coverage of specialist home care teams shows room for improvement."
The coverage provided by specialist palliative care hospital support staff was described as being at "optimal" level.
The research was conducted by comparing the Scottish level of care, found in 2016's the Scottish Atlas of Palliative Care, with European counterparts.
Until the Atlas' publication, Scottish statistics had been included with the rest of the UK, and there were no definitive comparisons between Scottish care and that of the rest of Europe.
'Scotland is in the top ten EU countries for all three types of service - not many countries do as consistently well across the board.'

Professor David Clark
Public health minister Aileen Campbell described the research as "a tribute to the compassion, commitment and dedication of those working across our health and social care services."
She said: "This work serves to highlight the importance of developing services in community settings to meet local need.
"This is one of the overarching themes of our Strategic Framework for Action on Palliative and End of Life Care and this research will be helpful in taking this work forward."
Richard Meade, head of policy and public affairs for Marie Curie in Scotland, said: "This important new study highlights that we need to do more to reach terminally ill people in their communities.
"We know that around a quarter of those who need palliative care in Scotland do not get it. The Scottish Government has committed to doubling palliative care services in the community and we look forward to seeing this progress."
Mark Hazelwood, chief executive of the Scottish Partnership for Palliative Care, said: "We welcome this research as part of a wider discussion of the adequacy of services available in Scotland to meet the needs of people experiencing declining health, death, dying and bereavement."