Northern Lights over Edinburgh after huge solar flare
The Aurora Borealis was caught on camera over Arthur's Seat on Thursday night.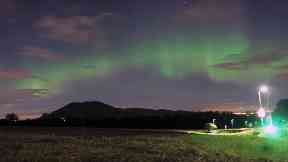 The Northern Lights have been seen as far south as Edinburgh following the biggest solar flare in a decade.
The Aurora Borealis shone over Arthur's Seat on Thursday night and spectacular displays could be on the way for northern Scotland.
The flare on Wednesday morning was powerful enough to cause radio blackouts, according to the Space Weather Prediction Centre.
Shaun Alexander, who filmed the display in Edinburgh, said: "Normally you have to leave the city lights so I usually drive down the coast.
"But last night's storm was exceptional. To see them in a big city and be able to capture them on a phone is testament to how strong the solar flare was."
The flare was accompanied by a huge burst of charged particles, which created a magnetic storm when they collided with Earth's atmosphere.
The burst - known as a coronal mass ejection - is what causes aurora. They are common over northern Scotland but more unusual further south.
Dr Nathan Case, a member of the AuroraWatch team at Lancaster University, said the flare would probably cause Northern Lights across the UK.
"To see the aurora you'll need dark skies and a good view of the northern horizon. The further north you can go the better," he said.
The northern lights could vanish from Scotland's skies due to declining solar activity, scientists have warned.
Download: The STV News app is Scotland's favourite and is available for iPhone from the App store and for Android from Google Play. Download it today and continue to enjoy STV News wherever you are.